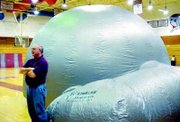 GRANDVIEW - A simple internet search for a protective dome for his telescope led retired Grandview High School math teacher Rod Roberts to discover a whole new career.
With one click of his mouse, Roberts found himself looking at a website that promoted the use of inflatable planetariums as a teaching tool.
"I clicked on it and I thought to myself, 'I could do that'," Roberts said.
That one mouse click was all it took for Roberts to step into action, working to build another career for himself.
Roberts, who has always been interested in the study of stars, said the first thing he did to get started in the inflatable planetarium business was to visit the Washington Starlab representative in Anacortes. He noted that the representative set up his Starlab and answered a lot of Roberts' questions.
For the past year Roberts has been offering planetarium presentations at schools throughout eastern Washington, including Grandview, Sunnyside and Connell.
He said it combines one of his hobbies with his love of teaching. He explained that when he retired he felt that he was young enough to continue working on some level.
Roberts explained that a planetarium presentation gives students a chance to sit inside an inflatable dome and watch the stars move overhead. He said when the presentation begins the lights are on in the dome as the students get situated, taking seats on the floor. Then slowly he begins to turn down the lights, telling the students "...as the setting sun sets in the west you should start to see some brighter stars in the east."
"And pretty soon someone is like, 'I see one...,'" Roberts said. Adding that from there the students begin to point out the first stars that light up the night sky.
"The enthusiasm is really catching," he said.
By that time in the presentation the students are looking at a complete night sky. Roberts said he then gives the students a look at each of the different planets in the solar system, teaching them about the origins of astronomy. He added that he also takes time to show students the zodiac signs made up by constellations of stars.
"It's a great teaching situation," Roberts said of the inflatable planetarium. "It's reality TV."
Roberts does planetarium presentations for students from first grade through high school. He noted that at this point he does a presentation every few months, noting that he was in Connell last month and has four presentations planned in May.
The cost of hiring Roberts to bring his inflatable planetarium program to a group of students ranges from $300 for up to three presentations in a day to $450 for five presentations. He noted that when he was in West Valley he spent three days with the school district, giving presentations to all of the seventh grade students at the school.
Overall, Roberts said he enjoys bringing his love of the stars to students of all ages. He noted that he can still remember when he saw his first planetarium presentation in Chicago when he was a young student.
"I never lost my enthusiasm for science," Roberts said.