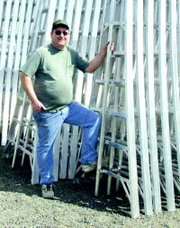 GRANDVIEW - Applying to be a member of the Grandview Port Commission was more than just answering an advertisement for Grandview's Richard Shenyer. Instead, it meant trying out for a chance to help be a part of the future of the community.
Shenyer recently learned that his application helped land him a position on the local port commission. He will be filling the position vacated by James White.
Shenyer, who works as the manager of Marchant Ladders, Inc. in Grandview, said he has always been interested in economic development and saw the port as a way to help with that aspect of the community.
He said he is looking forward to seeing more growth in Grandview, adding that it will be nice to help bring things into the community and to know that he played a part in the development.
Shenyer said as the newest member of the Port Commission he would like to see the organization focus on bringing in businesses that will offer family-wage, year around jobs.
He explained that although he realizes the Yakima Valley's economy is based around agriculture, seasonal jobs can make it tough for a person to provide for their family.
"It's nice to have something like a Wal-Mart out here," Shenyer said, pointing towards the new distribution center.
Although Shenyer is looking forward to being a part of the community's growth, he thinks there are a few challenges that will come with being a member of the Port Commission.
He explained that he thinks the competition between Grandview's port, and ports in surrounding communities, such as Prosser and Sunnyside, could make it difficult for Grandview to attract business.
"We're all after the same businesses," Shenyer said.
Despite the competition, Shenyer said he also realizes that development coming into any Lower Valley community benefits all of the surrounding cities and towns.
Shenyer, 44, was born and raised in Grandview, though he lived in Yakima for a time. He moved back to the community 14 years ago. Shenyer is married and has an eight-year-old daughter.
He has worked at Marchant Ladders, Inc. for a number of years. He said he first came to work for the company when he was in high school, coming in after school to help around the shop. He added that he continued to work at the local ladder manufacturer during the summer months while he attended college at Central Washington University.
Shenyer said he enjoys the work he does at the local company.
"I enjoy the work environment and living in a smaller community," Shenyer said.
Shenyer will be sworn in as the newest member of the Grandview Port Commission during the port's next meeting, Friday, April 8. The appointment requires Shenyer to file for election in November to complete White's term through 2009.