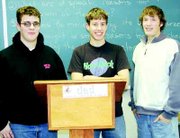 CAMAS - Named as a last minute replacement, the Sunnyside High School Knowledge Bowl team was given an opportunity to compete at the State Knowledge Bowl contest held in Camas March 25-26.
The Sunnyside team, which had finished third in District competition, was given the last minute opportunity when the Ellensburg team dropped out of the competition,. The contest tests students' general knowledge, according to Dan Thomas, the Sunnyside team advisor.
"It was a last minute thing," he said. While his six-member team was excited by the opportunity, they didn't place in the 49-school contest.
"It was tough," said Thomas, noting his team knew the answers, but they just weren't fast enough on the buzzer in the contest that calls for the team members to buzz in order to answer questions.
"You can't be passive when it comes to buzzing in," Thomas said.
The SHS team includes seniors Chelsea Durfey, Brendan Scott, Jeff Martin, Danny Mendoza and Michael Alanis, and junior Meagan Downing.