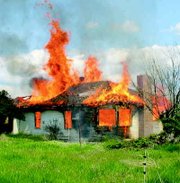 Firemen take part in live-burn training
by Melissa Dekker
A house on Port of Sunnyside land was burnt to the ground this past Saturday as part of a training exercise for Yakima County Fire District #5 firefighters.
Dave Martin, fire training captain for the district, said for the past year the fire district has been working with the Port of Sunnyside on preparing for a live burn. The house, nestled on North McLean Road right next to I-82, was on land the Port of Sunnyside purchased in recent years.
Martin said the process the county went through to burn down the house took a year because at one point there was interest in moving the home. When that offer fizzled, the fire district was back on track to practice in a live burn situation.
About 20 firefighters participated in the practice burn.
"We had two new recruits training," said Martin, adding that the remaining participants have been volunteers anywhere from one month to 30 years.
The group was able to work on interior firefighting skills and were able to study fire behavior and what causes different burn patterns, said Martin.
Participants were also able to learn about building construction and fighting exterior fires with higher water volumes.
"We actually had some stuff given to us from a vendor that we were able to try out," said Martin.
Even though Fire District #5 is the largest fire district in regards to square miles, very few live burn opportunities pop up, Martin said. As soon as Port officials offered the house, they jumped at the opportunity to train in a live burn situation, which, he said, is the best way to learn about fire. Prior to Saturday's burn, the fire recruits' most recent live burn training was held this past February at the State Fire Academy in North Bend.
&nbsp