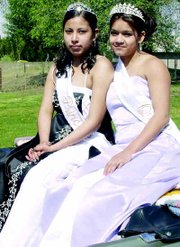 GRANGER - Despite rainy, gray weather for most of last week, the clouds parted Saturday morning, allowing the Granger Cherry Festival to proceed without fear of a downpour.
Saturday morning, the festivities kicked off with the annual parade down Granger's Main Street. The parade included everything from colorful community floats to a long line of classic Model A's.
Children from the community were lined up along the sidewalks Saturday, waiting for the parade entries to pass and scurrying to catch candy as it was thrown from passing parade vehicles.
Taking first place honors in the local parade were Richard and Kiki Ornelas in the automobile category, the Granger 21st Century After-School program in the civic orgnaizations category, Granger Pitt Pups wrestlers in the clubs category, KDNA in the commercial category, the Harrah Fall Festival float in the small community float category, and the Toppenish float in the large community float category.
Walking away with second place honors in the parade was the Mabton float in the small community float category, Robert Rodriguez and Paul Heilman in the automobile catergory, the Wapato float in the large community float category, and Brownie Troop 384 in the club category. Earning a third place trophy in the parade was Rudy Gonzalez in the automobile category.
Other parade award winners included the Zillah community float, which recieved the Mayor's trophy, and the Sunnyside community float, which was named the Sweepstakes winner.
The Granger Lions Club also took time Saturday to honor Chuck Eastwood, the parade announcer, for 50 years of service to the community.
Following the parade the crowds in Granger dispersed, with people heading in different directions to take advantage of the different Cherry Festival activities. Many walked down the street to the park for carnival rides and a bite to eat, while others ventured across the street to Granger's Masonic Lodge for the annual student art show and craft fair. This year more than 400 entries filled the lodge, including everything from drawings by elementary school children to welded sculptures created by Granger High School students.
Sunday, the Granger Cherry Festival activities moved to Hisey Park for the annual fishing derby, with local anglers casting off in search of the largest trout.