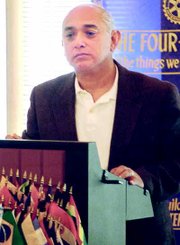 Sunnyside Noon Rotary members learned Monday at their noon meeting how Rotary International supports disabled adults. With the Partners for Work program, disabled adults in the Valley are being employed in a variety of capacities.
The local service group was addressed by Cris Gonzalez of Horizon of Sunnyside Inc. about the opportunities to employ developmentally disabled adults in the Lower Valley.
For more than 20 years Horizon has been providing a way for disabled adults to find work in the community. Besides the work crews, which are hired to clean public and private buildings, Gonzalez said clients have been hired by Domino's Pizza and others have done per diem work, assembling music stands and shipping containers.
"People with disabilities are no different than anybody else," said Gonzalez. "We all have our strengths and weaknesses."
Partners for Work, the Rotary sponsored program, promotes employment opportunities for adults with disabilities.
In a video showed by Gonzalez, Rotary International President Frank Devlyn said, "It's the lack of opportunities rather than the disability that keeps them from work."
Across the state, disabled adults are working in schools with reading programs, at colleges in mailrooms and even at Northwest based wholesaler Costco.
Gonzalez said that one thing that keeps disabled adults from work are myths, including hiring employees with disabilities will increase workers compensation and insurance rates.
He said that insurance rates are based on relative hazards of the operation and the organization's accident experiences, not whether or not employees have disabilities.
Another myth, said Gonzalez, is that employees with disabilities are more likely to have accidents. In a DuPont study, the safety record of both disabled and non-disabled employees had the same safety record.
He added that those concerned about a higher absentee rate don't have to because people with disabilities have the same absentee rate as those without.
"They can carry on usual activities driving to work, go grocery shopping, pay their bills and compete in athletic events," said Gonzalez.
Gonzalez said there is a benefit for those who hire the disabled. She said there are business tax credits.
Horizon is just one of several agencies that helps disabled adults find work.
"The person with the disability has a choice as to who they want to work with," said Gonzalez. "They do their own job search and we encourage them to use WorkSource."