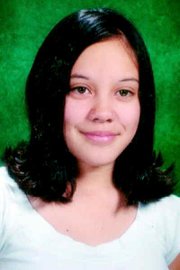 Thirteen-year-old Rebecca Redick was supposedly going to a neighbor's house to drop off some beauty supplies needed to prepare for a wedding Saturday at about noon, but hasn't been seen since by family members.
The Chief Kamiakin Elementary School student was in good spirits before she left, after bringing home a good grade, said family members.
Her father, George Redick, reported her missing to Sunnyside police Sunday night. He said at this time they believe she is a runaway.
"We thought she stayed at the neighbor's house, which she sometimes does," said Redick.
The family believes the young teen is with an older boy, who could be as old as 18 or 19-years-old.
The pretty, half-Filipino girl is 5'3" and weighs about 115 pounds. She has brown hair and brown eyes. She was reportedly seen early Sunday morning in a vehicle at a Sunnyside gas station.
Anyone with information on Redick is encouraged to call the Sunnyside Police Department, 837-2120, or they can contact her parents at 837-3016 or 840-2524.