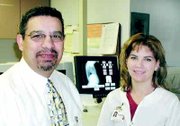 New technology has changed one of the most technological departments at Sunnyside Community Hospital - the imaging department. Even that name is a change for some, who still want to call the department X-Ray.
Over the next five years, a $400,000 investment in the Picture Archiving and Communication System (called "PACS" for short) and Computed Radiology will dramatically change and improve how medical images are stored, shared and used to diagnose illness, injury and disease for the patients of the Lower Yakima Valley.
The hospital's imaging department's new PACS system was installed in 2004 and became active earlier this calendar year.
"There is no wet processing of films any longer," explains Imaging Manager Coleen Goulet. "We are the first hospital in the Yakima Valley to become completely film-less. While it is an innovation in health care now, in five years it will be the standard most hospitals are judged upon," she explained.
Along with PACS, the hospital purchased a Computerized Radiology System that allows plain X-rays to be stored in the PACS system. With PACS, images from X-ray, Nuclear Medicine, CT scan, ultrasound, and MRI are stored on a computer server.
"Its easier, quicker and higher quality images," Goulet said.
"In the past we could only store images five years because of space constraints. Now we will be able to hold on to a patient's images for as long as we need."
Goulet said her staff is very excited about the system. She said physician acceptance of the new system has been led by younger doctors in the hospital, who trained with a PACS system in their residency programs in New York, Pennsylvania and Texas.
The costs are comparable to the old system now.
"Anyone who has ever had to transport an oversized envelope full of personal X-ray or scan images to a doctor across town, or outside the Valley, will probably appreciate some of the reasoning behind this change," Goulet added.
"Now those patients will be handed a computer disk with their images ready to be read by the doctor on his or her own office computer," she said.