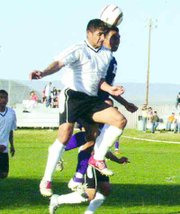 GRANDVIEW - Despite playing well, luck still doesn't seem to be on the side of the Grandview High School boys soccer team.
The Greyhounds took CWAC south leading Connell to the limit last night, but still came up short, losing 1-0.
"We played great," said Grandview Coach Anne Holden. "I can't ask them to play any better."
Holden said the only thing that wasn't on the side of her team last night was luck.
The Greyhounds, who entered the game fresh off a 5-3 victory over Toppenish during the weekend, dominated play against the Eagles last night.
Grandview had nine corner kicks to two by Connell, but still couldn't put the ball in the net.
The only score of the game came early on in the seventh minute, when Tony Chairez booted in a shot that was rifled down field by Connell keeper Jose Mendoza. A Grandview defender missed clearing the ball, allowing Chairez to sneak past and score the goal.
Holden said her team put it all on the line last night against Connell, but couldn't get a shot past Mendoza in the box.
Grandview out shot Connell 7 to 6 on goal. Holden said all seven of Grandview's shot were right on target, but Mendoza was unstoppable.,
"He had seven outstanding saves," said Holden.
The Greyhounds particularly dominated play in the second half. Holden said Jesus Soto had a couple of shots that were beautiful, but just didn't go in.
Holden said she is more than pleased with the efforts of her team, as the Greyhounds rocked Connell on its heels. Holden said the lone goal caught Grandview off guard, as the Greyhounds dominated play early on and Connell was able to break away for a quick goal.
With the loss, the Greyhounds (4-5, 6-8) are forced with a must-win game in Grandview's season finale on Saturday at Naches Valley.
The Greyhounds are knocking on the door for the sixth and final league playoff spot. The other team in the hunt for the last playoff berth is Royal (5-4). Royal will face second place East Valley (6-2) on Saturday.
"We must win against Naches," said Holden. "We will go to practice today and work harder and harder in hopes that it will pay off."