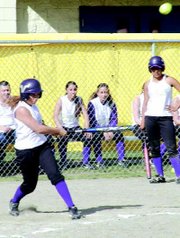 MABTON - It took a bit of work, but the Mabton High School fastpitch team got the job done against visiting Lyle yesterday.
The Lady Vikes had an easy time of things in the opener, playing error free ball, to charge to an 11-1 victory. But errors kept the nightcap interesting for Mabton, as the Lady Vikes rallied late to pull out a 10-8 win.
Lyle's lone run in the opening game came in the top of the second inning.
Mabton had an all-around solid effort in the five-inning affair. The Lady Vikes had four runs in the fourth and exploded for six runs in the third.
What did the Lady Cougars in was five errors.
"We capitalized on their errors," said Mabton Coach Jesus Sustaita.
The Lady Vikes' defense backed up the pitching performance of Alida Mendoza, who tossed a two-hitter while collecting a pair of strikeouts.
"Our defense was on," said Sustaita. "Our girls' defense did an excellent job."
Mabton had five hits in the opening game, said Sustaita. None of the Mabton players had an extra base hit. The Lady Vikes were able to couple the five hits with three Lyle walks to win the game.
Much like errors did in Lyle in the first game, mistakes made things interesting for the Lady Vikes in the nightcap.
Don't let the line of starting pitcher Josie Chase give the wrong idea, as she pitched well enough for Mabton, said Sustaita. Chase gave up 10 hits and had one strikeout with no walks in three innings of work. Sustaita said Chase pitched well.
"They were hitting her," said Sustaita. "But we fumbled the ball a little too much in this game."
Mendoza was able to calm the tone of the game down for Mabton, pitching in relief of Chase. Mendoza had three strikeouts in four innings of relief work.
Lyle collected all eight of their runs in the first three innings.
Mabton had to nickel-and-dime its way back into the game. The Lady Vikes trailed 8-6 going into the bottom of the sixth inning. Mendoza started the sixth off with a double before Michelle Tellez singled. Both runners then advanced on passed balls. Patty Mendoza collected an RBI with her groundout, which was followed by an RBI double from Jessica Orosco. Chase then drew a walk. Both baserunners advanced on a groundout. The final two runs came off a misplayed ball in the outfield off the bat of Mabton's Sara Sosa.
Sustaita said he was pleased with how his players rebounded in the nightcap.
"Our defense straightened up," said Sustaita.
The Lady Vikes (8-2, 12-6) will be looking to grab a share of the Greater Columbia 'B' League title when they host Sunnyside Christian for a twin bill on Saturday, May 14.
1 2 3 4 5 T H E
Lyle 0 1 0 0 0 1 2 5
Mabton 4 0 6 1 x 11 5 0
Pitching-Alida Mendoza two hits, two strikeouts in five innings.
Hitting-Celida Diaz, Alida Mendoza, Michelle Tellez, Patty Mendoza, Mayra Diaz were all 1-for-2 in the game.
1 2 3 4 5 6 7 T H E
Lyle 3 2 3 0 0 0 0 8 12 3
Mabton 3 0 0 2 1 4 x 10 9 4
Pitching-Josie Chase one strike out, 10 hits in three innings. Alida Mendoza three strikeouts, two hits in four innings.
Hitting-Jessica Orosco 2-for-3 with a double in the sixth inning. Diana Lopez 1-for-3. Michelle Tellez 2-for-4 with a triple in the fourth inning. Alida Mendoza 2-for-4 with a double in the sixth inning. Mayra Diaz 2-for-4.