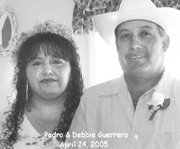 The Sunnyside home of Debbie Marez and Pedro Guerrero was the setting for the couple's wedding on Sunday, April 24, 2005.
The couple was surrounded by their sons, Hector Tabarez, Joel Tabarez and Nick Marez, friends and other family as they exchanged their vows.
Carrying a bouquet of silk, white roses with pink floral accents, the bride exchanged vows with the groom. She was wearing a knee length pale, blue chiffon dress with pink flowers and a flounced hemline during the ceremony. She also had a wreath of baby's breath, pearls and small pink flowers in her hair. The groom wore a pale pink, long sleeve shirt with a white rose boutonniere and a cream colored cowboy hat during the ceremony.
Nora Hernandez of Sunnyside and Mary E. Gomez of Sunnyside were witnesses for the ceremony.
The bride is the daughter of Angie Robles of Sunnyside and Fred Marez of Monte Alto, Texas. She attended Sunnyside schools and is currently employed by the Daily Sun News.
The groom received his education in Mexico and has worked as a farm laborer.
He is the son of David and Angela Guerrero of Mexico.
Following the ceremony, the couple celebrated their marriage with a dinner at their home.