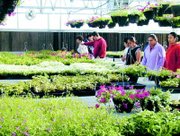 GRANDVIEW - The plants are piling up and as Mother's Day approaches the Grandview High School plant science class is ready to sell off the colorful foliage they have been nursing along for the past few months.
According to plant science teacher Todd Dezellem, the greenhouse is filled with colorful spring annuals and baskets, which his students will be selling all day this Friday.
The class started with seeds and seedlings in January and February to prepare for the upcoming plant sale, said Dezellem.
"There's a really good selection," he said. "We've got a lot more plants in there than I'd like."
The second sale of the year, the horticulture classes at the high school have been busily preparing for their Mother's Day sale, which provides the community with an opportunity to purchase inexpensive bedding plants.
The sale will be from 7 a.m. to 4 p.m. at the greenhouse, which is located behind Grandview High School. An access road behind the high school softball field on Fifth Street leads to the greenhouse, said Dezellem.
According to Dezellem, the students will have "bags of bloom," which are hanging bags covered with flowers, as well as hanging baskets and bedding plants.
Plants for sale include geraniums, petunias, lobelia, bacota and fortulaca. He said they also have spikes and alyssum.
Plants range in price from 50 cents to $17.
All of the money raised from the plant sale will go into the greenhouse and horticulture program at the high school.