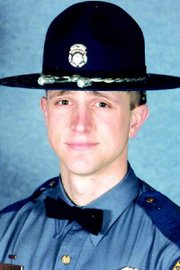 Following in the footsteps of his father-in-law, Gary Hughes of Prosser, former Outlook resident David Kaiser was recently named Washington State Patrol Trooper of the Year.
He was presented his award this past Tuesday at a ceremony held at the Washington State Patrol training academy in Shelton.
In recent years, the now retired Hughes also won the distinction, which is annually given to one Washington State Patrol trooper who exemplifies the ideals of the Washington State Patrol.
Kaiser, who was born in Sunnyside and raised in Outlook, has been working for the state patrol since 1999. He was selected for the distinction from a pool of more than 650 peers working across the state.
Working out of the Kennewick detachment, Kaiser has made a name for himself in his department.
Kaiser leads District 3, which encompasses southeastern Washington, in the number of driving while intoxicated arrests, according to Capt. Jeff DeVere, government and media relations specialist for the Washington State Patrol.
In 2004, Kaiser made 166 DUI arrests. The average for the area he works in is 56 in a year.
He also made 1,709 speeding contacts in 2004, which resulted in 634 speeding infractions. The average number of speeding contacts made in the area is 943.
The Sunnyside Christian High School graduate also made 76 aggressive driving contacts in 2004, compared to an area average of 57.
He also wrote tickets for all of the 349 vehicle restraint contacts made in 2004.
Outside his work as a state trooper, Kaiser is also active in his community. He helps an elderly Prosser woman who lives alone with yard work, home maintenance and delivers her groceries. Kaiser sponsors a child in Africa through the World Vision program and also sponsors meals for the Union Gospel Mission. An active member of a Richland church, he also assists in directing traffic for the church. He also helped make wooden toys for Toys for Tots this past Christmas.
He also volunteers for the American Cancer Society and last year he volunteer to drive the J&S Express train in Columbia Park. The train takes passengers around the park on a tour and is named for Washington State Patrol Trooper James Saunders.
Kaiser is the son of Victor and Phyllis Kaiser of Outlook and the son-in-law of Gary and Marlene Hughes of Prosser. He is married to Hollie Kaiser.