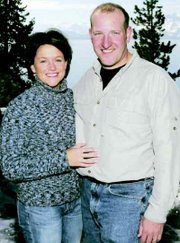 United States Army Captain Shelly Bunkers, formerly of Dell Rapids, South Dakota, and Army Major Randy Schliep, formerly of Grandview, were married in a private ceremony at Lake Tahoe, Nev. The wedding was held Oct. 29, 2004.
The bride is the daughter of Ken Bunkers and the late Ellen Bunkers of Dell Rapids, South Dakota. She graduated from South Dakota State with a degree in English. She taught in the Dell Rapids area prior to receiving her commission in the Army.
The groom is the son of Jerry and Beverly Schliep of Grandview. He is a graduate of Central Washington University with degrees in biology and military science.
The couple plans to have a traditional wedding upon their return from overseas assignments in Iraq.