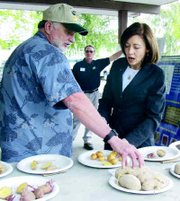 PROSSER - It takes more than a couple of years to breed a new cherry variety. It's a process that can take anywhere from 25 to 30 years to complete. But finding research funding that spreads over three decades can be tough. For the past century that steady funding has come from the Hatch program.
However, Hatch funding that makes research projects possible at facilities like Prosser's Irrigated Agriculture Research and Extension Center is in danger of disappearing.
Wednesday afternoon, Sen. Maria Cantwell visited the Lower Yakima Valley facility to announce that she intends to fight for the funding to keep research alive.
"Agriculture is the backbone of the economy and jobs in Washington state," Cantwell said. "This agricultural research helps the entire region's economy and keeps jobs where they should be - right here at home."
While in Prosser Cantwell took time to talk to both researchers and growers who have been effected by the research done at the Washington State University agricultural research center.
Cherry grower Denny Hayden told Cantwell that everything in the cherry industry is driven by the research that is done at the extension center.
Hayden explained to Cantwell that breeding a new cherry variety is a research project that takes two to three decades to complete. He noted that without steady federal funding many of these research projects wouldn't happen.
The federal funding in question comes from the Hatch program. According to Washington State University officials, the Hatch program provides a steady stream of funding that helps make long-term research possible.
Cantwell said President George W. Bush's budget calls for the ultimate elimination of the Hatch program. According to Cantwell, the funds are proposed to be phased out over the next two years, with Hatch funds being cut by 50 percent in 2006 and completely eliminated in 2007. WSU officials noted the elimination of Hatch funds could result in the closure of one or more of its nine agriculture research centers located throughout the state.
Cantwell said yesterday that she had sent a letter to the Senate Agriculture Appropriations Subcommittee urging them to preserve the agriculture research funding program.
"The agriculture industry in our state is still our largest employer," Cantwell said. "It is still a significant part of our economy and we need to continue to preserve it."
Cantwell added that cutting funding to the Hatch program will also cut the heart out of research and agriculture production in the future.
"We need to continue with research," she said.
Ralph Cavalieri, associate dean and director of the WSU agricultural research center, noted that the federal funding the institution receives helps fund research on everything from new crop varieties to how to solve complex problems in the food industry.
Cantwell said ensuring Hatch funds continue to be available is important because land-grant universities, like WSU, need to continue their research, which they share and make available to others. She explained that without universities conducting research, the only research that would be done would be conducted by large companies and not shared.
"What we have here is research that is distributed to everyone," Cantwell said. "It's very important we not have land-grant research centers X'd out on the behalf of big agriculture."
Cantwell said she plans to work with her colleagues in the Senate to find out who has similar issues in their state, and then hopes to ban with them to save Hatch funding.