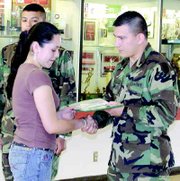 GRANDVIEW - When three Grandview High School seniors decided to send care packages to Iraq as part of their senior project, little did they know they would be receiving letters of appreciation from the Washington National Guard.
Tuesday afternoon, Monica Alvarez, Maricela Torres and Ana Orduno were each presented with a letter and certificate in a green folder, much like the ones they will receive in a few short weeks with their graduation diplomas in them.
The three girls were honored with a small ceremony in the entrance to the school.
Washington National Guard Sgt. Felipe Gonzalez, who presented the girls with the recognition, said they had contacted him last fall interested in supporting troops in Iraq.
"They came to us to find a unit," he said.
With no units from the local armory currently deployed, Gonzalez put the girls in touch with the 951st maintenance company based out of Camp Murray. The company is still deployed to Iraq.
As part of their project the girls gathered enough items to fill three large boxes, which were then sent on to Iraq.
Among the items sent were magazines, toothbrushes, toothpaste, gum, deodorant and baby wipes.
He said the items are much appreciated since it is difficult to find some of those items in Iraq.
"Out there sometimes you have to take a baby wipe bath," he added.
"It's going to go a long ways," Gonzalez said.