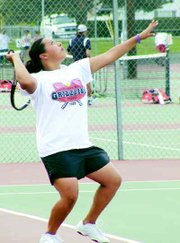 Things did not go smoothly for Sunnyside Wednesday afternoon. Although the morning rain had stopped, the sun wasn't shining on the two Grizzly tennis teams.
The boys team sustained a 3-2 loss to the Bulldogs, while the girls fell to Ellensburg 4-1.
On the boys team (3-6, 5-6) the two wins of the afternoon came from brothers Danny and Johnny Plesha, both playing in singles positions.
Sunnyside's No. 1 singles player Danny Plesha won over Jonathan Belford 6-1, 6-1. While Johnny Plesha, playing in the No. 2 singles position, scored a victory over Ellensburg's Taylor Hagbo 6-0, 6-1.
The No. 1 doubles team of Jonathan Beals and Tyler Thompson lost to Ellensburg's Mike Connelly and Joel Wahl 1-6, 6-2, 6-4.
Sunnyside Coach Troy Whittle said Beals and Thompson handily beat the Ellensburg team in the first set, but couldn't pull together in the second set. He noted that in the third set the Sunnyside team came back to life, tying the score at 4-4 at one point.
Sunnyside's No. 2 doubles team of Jake Wavrin and Hunter Van de Graaf lost to Ryan Shuffelmaier and Jake Hanson of Ellensburg 7-6 (11-9) 6-1.
Whittle said the Ellensburg team is a tough one and both Wavrin and Van de Graaf did a good job of keeping pace with them.
Playing in the No. 3 doubles spot was the Sunnyside team of Jesus Alquicira and Justin Snyder, who lost to Ellensburg's Kyle Weyand and Ryan James 6-0, 6-0.
As for the Sunnyside girls (6-3, 8-2), in the No. 1 singles position Sunnyside's Dolores Gomez lost to Danica Weiner 6-3, 6-3.
Whittle said in this case Weiner was just a patient tennis player, who played consistently and waited for Gomez to make the mistakes.
Sunnyside's Jessica Gudino played in the No. 2 singles position and lost to Ellensburg's Dalziel Dyson 3-6, 7-5, 7-5.
The only victory for the Sunnyside girls team came from the No. 1 doubles team of Jerika Martinez and Erica Mendez. The two defeated Ellensburg's Nora Jacobs and Tori Sorensen 6-2, 6-3.
Whittle said Martinez and Mendez are pulling together and becoming a very strong doubles team.
The No. 2 doubles team of Lanna Pangle and Lizeth Chiprez lost to Ellenburg's Nadia Weiner and Katie Kelleher 6-1, 6-2.
"Ball placement continues to be a problem," Whittle said of Pangle and Chiprez.
Sunnyside's No. 3 doubles team of Nikki Hernandez and Victoria Garza lost to Ellensburg's Jackie McPherson and Rebecca Estelle 6-2, 6-3.
Despite losing to Ellensburg, Whittle said Hernandez and Garza put forth a good effort.
The Sunnyside tennis teams will take to the court again tonight (Thursday) at Prosser.