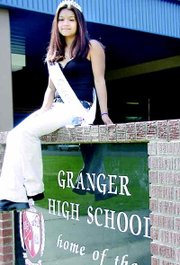 GRANGER - After Ana Ramirez heard the name of her competitor for the title of Miss Granger, Melissalyn DeLuna, called at a crowning ceremony two weeks ago, she was a bit confused.
"I didn't think I'd win because everyone was telling me she (DeLuna) had sold a lot of tickets," said Ramirez.
Once it finally sunk in that DeLuna had been named as the princess, Ramirez realized she had indeed been given the honor of representing her community for the next year.
Ramirez, 17, as a little girl said she would look up to the girls who annually came to her door selling raffle tickets, which is one of the deciding factors in who is named Miss Granger each year. Two years ago her older sister ran for the title and was named second princess.
"I watched her and it looked like she had a good time," said Ramirez.
But more importantly, she saw competing for Miss Granger as a way to give back to her community.
"I've always wanted to do something for Granger and thought this was a good opportunity," said Ramirez.
When it came time to sign up for the opportunity to run for Miss Granger, she was the only candidate until about a week before the first pageant meeting.
"We learned at the meeting that since there were only two of us it would be based on ticket sales," said Ramirez.
Ramirez sold 1,223 tickets.
"My mom and I made tamales and sold them," said Ramirez, explaining how she was able to sell some of the tickets. "It's thanks to my mom that I won."
A little more than a week after Ramirez received her crown, she was already riding in the back of a convertible in her first parade. Appropriately, it was the Granger Cherry Festival Parade, held this past Saturday.
"It was fun, but no one really showed us how to wave," giggled Ramirez.
Finally, she said, one of the outgoing members of the Miss Granger Court told Ramirez and DeLuna to bring their hand up to their eyebrow and then extend it out to the crowd.
This Saturday she will be in the Sunnyside Cinco de Mayo Parade.
The petite Ramirez is active in her school, as well as at her church, Iglesia de Amor del Dios Vivo, which is located in Sunnyside.
In school, Ramirez is the activities coordinator for the Granger High School MeCha Club and this past fall she played varsity soccer. Last year she was a cheerleader and played varsity fast-pitch softball.
"I didn't play softball this year because of Miss Granger. I didn't want to miss the games," she said.
At church, Ramirez is involved in the church choir. She said if there had been a pageant competition she was planning to sing in the talent portion of the contest.
The high school junior has big plans for the future as she looks past high school graduation. She would like to attend Seattle Art Institute's culinary arts program and then go on to business school for two years.
"Someday I want to have my own restaurant," she said.
She is already learning the basics of cooking in the Spartan House class, which is a cooking class at Granger High School.
"That's going to help me when I go to cooking school," she said. "It's probably my favorite class.
On the other end of the class spectrum is a construction class Ramirez is taking.
"I don't like getting dirty," she laughed, adding, "I can't even hammer a nail."