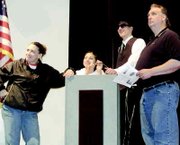 It is that time of year again when Sunnyside High School seniors don funny clothes, sharpen their slapstick talent and present the Senior Follies talent show. The 2005 Senior Follies will open tonight (Friday) at the Sunnyside High School auditorium at 7 p.m. Tickets are $4 per person and will be available at the door.
A Sunnyside High School tradition since the late 1970's, the Senior Follies is also a benefit for the American Cancer Society. In addition, it is a time for the senior class to cut loose one last time before graduation.
This year's talent show will feature 14 acts, among them solo musicians, singers, dancers, and a variety of skits based on the amusing daily lives of the class of 2005.
A second presentation of the Senior Follies will be at 7 p.m. Saturday, May 7, at the auditorium.
This year's show is directed by Holly Ohler and Monty Johnson, senior class co-advisors. Emcees for the two-hour show will be seniors Vanessa Alvarez and Jake Thomas.