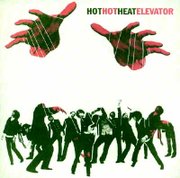 by Rachel Bott
Two years ago when Steve Bays, Paul Hawley, Dustin Hawthorne and Dante DeCaro released "Make Up the Breakdown," I wonder if they truly knew what an incredible debut album they had created. Needless to say, in my anticipation for their next CD to come out, my expectations were fairly high.
Hot Hot Heat's "Elevator" proves to be pretty tantalizing, but not in the ways I had necessarily expected.
The entirety of this album is weaved through and through with fun, high-energy, snappy songs. They all possess the quality of songs you'd love to hear at a summer party, or scream along to with your best friend at an outdoor concert.
While Hot Hot Heat's first album was a quirky punk set, where each song sounded like spontaneous ideas pieced together into a very creative musical masterpiece, "Elevator" seems to be more thought out and planned into a detailed structure. The irony of the way the tracks are listed and lack of a song #13 (as most elevators do) is just one example of what seems to be the band's attempt to be different and unordinary. Right down to most of the lyrics, there is an underlying sense of trying, instead of just being.
"Make Up the Breakdown" was in every sense a distinctly punk album. While "Elevator" is extremely edited and structured into songs containing static beginning, middle and end.
However, the CD does hold its bright moments. The brilliance of Steve Bays' singing style and songs Goodnight Goodnight and Island of the Honest Man bring some strongly positive qualities to the album.
Goodnight Goodnight tells a not-so-often-told side of breaking up. There are times when a relationship turns sour and we are utterly heartbroken, and the majority of break-up songs use the same overused cliches set to music time and again. This particular number, however, refers to the time when an ended relationship makes us want to celebrate and breathe a sigh of relief. The frank, harsh and surprisingly funny lines bring to mind what we really want to say in that familiar situation. Not only is the chorus a blunt "get out of my life" sort of demand, but cruelly lovely is the line, "I threw out your keys along with all your records I can't stand...You never even listen to any one of them."
Mostly what drifts through my head while the CD is blaring out my stereo is the question, "How can he sing that fast?" And, "How does it sound so great," for not once does it clash with the fabulous guitar?
There is an obvious tone of fun that the band is definitely having on the other side of my speakers, but next time I'm hoping for a little more of the spontaneity from before, which I can definitely get used to.
Boys, return to your unique and crazy-risky ways...you're so good at it!
. Rachel Bott, a music enthusiast, is employed as a para-professional at Outlook Elementary School.