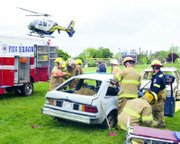 GRANDVIEW - With prom this weekend, the entire Grandview High School student body was able to see first-hand yesterday the effects of drinking and driving.
The Associated Student Body at Grandview High School organized a mock crash. ASB President Dirk Desserault spearheaded the event in hopes of trying to show his classmates what happens if they drink and drive, especially after such an event as prom.
"This is what would likely happen if somebody was intoxicated driving home from prom," said Desserault.
Desserault enlisted the assistance of the Grandview fire and police departments, as well as the MedStar helicopter ambulance of Spokane. Prosser Memorial Hospital even lent its ambulance services for the event. Desserault even went as far as getting the help of the Yakima County coroner's office to make the scenario more realistic.
Students were shown during the mock crash what would happen in an accident. The setting was an intoxicated driver going home from prom with his date. The intoxicated driver hit another prom couple, resulting in an accident. Everything that goes into assisting people in accidents was laid out before the students in Grandview in hopes they would think twice about drinking and driving, said Desserault.
Desserault was an eighth grader the last time a mock crash took place at Grandview High School. Desserault said he feels the experience can be an effective message.
"I thought it would have a great impact," said Desserault. "I really don't have to reach the whole school (with this message) as long as this prevents one person (from driving drunk).
Desserault said he wants the message for students to be to have fun at prom this weekend, but at the same time act responsibly.
"We just want kids to be careful," said Desserault.