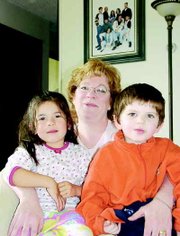 For most people, the old school yard rhyme, "first comes love, then comes marriage, then comes a baby in a baby carriage," is the way most people look at life. However, for Sunnyside's Kathy Weaver, things went a little differently, first came love, then came marriage, then instantly came a family with seven children between the ages of seven and 17.
When she married widow Barry Weaver she found herself instantly thrown into the role of motherhood. She said she didn't know just how hard being a stepmother would be. Weaver, who was working at Central Washington Comprehensive Mental Health when she got married, figured that her experience working in the mental health industry would make taking care of seven children a snap.
Looking back, after 10 years in her role as stepmother, Weaver is not quite sure what she was thinking back then.
"I've learned that nothing quite prepares you," Weaver said.
Weaver was 38-years-old when she married Barry and had never had any children of her own. Instead, she remembers she lived in a nice little house with white and blue furniture and a nicely landscaped yard. However, once she got married and suddenly found that she was in a family of nine, her little house was not going to work any more. Instead, Barry, who had been working at a shipyard in Bremerton, moved his family to the Lower Valley and together the group found a new home.
"It was systematic shock," Weaver said at suddenly having seven children.
She said all of the children were angry when she and Barry got married. She explained that they weren't necessarily mad at her or her new husband, but they were still angry at the loss of their mother.
With five teenagers in the house, Weaver said she struggled as she took on her new role. She explained it by saying that new mothers often make a lot of mistakes, but three-year-olds don't remember those mistakes. Weaver said for her, she was making her mistakes with teenagers, who don't always forget.
Weaver said she also struggled with things like age appropriateness. She said her teenage step-children looked like adults so she would treat them as adults. Looking back, Weaver said she realizes now that although they looked like adults they were still very much children.
After a few months of trying to work and keep up with seven step-children, Weaver left her job and began focusing on her new family.
"I turned into an instant mom," Weaver said.
And for Weaver, her first realization that she had become a mom was just months into having married Barry. She said she got a call from the school one day that one of her step-daughters was skipping class. Weaver instantly began searching for her missing step-daughter and when she found her, Weaver drug her back to school and found herself sitting with her step-daughter in front of the school principal. Weaver said that's when it hit her that she was actually a mother.
"I was the parent," Weaver said. "The evil parent, but I was the parent."
Weaver said being a step-parent is not an easy road to travel. She explained that during family birthdays, she is still the odd-man out because she wasn't part of the family when the children were born.
"You're just not part of those family stories," she said.
She added that her oldest step-daughter, Andrea Gatica, is still seen as the matriarchal leader of the family. Weaver said when her other step-children have issues with their children, they don't come to her, instead they go to Gatica.
"When their kids turn into teenagers I think they'll call me," Weaver said smiling.
She said things were tough as she tried her best to raise the older Weaver children, adding that things were easier with the younger members of the family.
Weaver said although a lot has changed in the last 10 years, she knows things will continue to change.
"There are grandchildren and (to them) I am the grandma," said Weaver, who has 11 grandchildren.
After nearly a decade of being married to Barry and having seven step-children, things are starting to wind down at the Weaver house. This year the youngest child, Aurora Weaver, is getting ready to graduate from high school.
Weaver said the past 10 years have been intense. She said instead of having 18 years of parenting, like most people, she got it all done in 10.
"It seems so intense," she said.
Weaver said now that home life is beginning to focus more and more on herself and Barry, she is working to figure out what to do with herself.
"I'm trying to figure out what I want to do next," she said.
She is currently enjoying her role as grandmother and explained that although suddenly gaining a family with seven children was tough, it has also been rewarding.
"I really do love them, even though some of them have really made me nuts," Weaver said of her step-children.
Looking back, Weaver said when she was dating Barry the thought that she would become an instant mother if they got married never bothered her.
"It's a good thing to be blind to certain things or we wouldn't do anything," Weaver said.