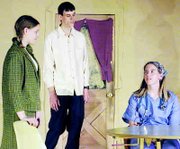 For her first undertaking as the Sunnyside Christian High School drama advisor, Beth Hedstrom chose a play with which she was familiar.
As a high school student, Hedstrom's school staged a production of "It was a Dark and Stormy Night," a play by Tim Kelley.
"It's kind of a spoof on old mysteries," said Hedstrom, who is a first year English teacher at the Christian school.
The play is filled with kooky characters that each bring a different dimension to the production, according to Hedstrom.
Set on a stormy night at an old inn, the play is centered around Ebanezer, an elderly man who wants to get revenge on an old love.
Hedstrom said Ebanezer hires young nurses as part of his plan of revenge, but they keep disappearing.
In the mist of Ebanezer's plans, his two cousins attempt to foil his attempts to exact revenge.
"They're all a little crazy," said Hedstrom.
Among the characters in the play are Smiling Sam, a crazy salesman who stops by in the midst of the storm, and Belle Malibu, an actress and dancer.
The two cousins aren't exactly normal either, each wears shoes that don't match and refer to a time when there was sanity in the family, which hasn't been for many years.
"It's a lot of fun. It's nothing too serious or dramatic," said Hedstrom, adding that it has also been quite the undertaking with a cast of 12, plus those working backstage.
"It's been three years since the last drama production at the school," she said. "I wanted something the kids could get into and the community could enjoy."
Cast in the production are Andrew Friend, who plays Ebenezer, Heather Van Wingerden as Belle Malibu, Jessica Schrotenboer as nurse Mary Shaw, Megan DeGroot as Hepzibah, Elizabeth Friend as Olive, Jacqui Roberts as Jane Adams, Caitlin Aleman as Officer Snell, Adrian Van Oostrum as Smiling Sam, Catherine Douglas as Euphemia, Laura Schrotenboer as Arabella, Emma Newhouse as Dorothy Blake and Jason Friend as Dawson.
"It's a pretty big cast for our school," said Hedstrom.
The play will be staged in the Sunnyside Christian High School gym Thursday, May 12, and Saturday, May 14. The performances will begin at 6:30 p.m. Tickets are $3 for adults and $2 for students and senior citizens.