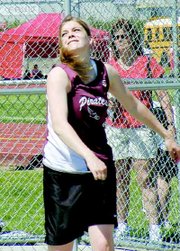 WAPATO- One way to describe Bickleton's Annie Hess is to say she is poetry in motion , at least when she's throwing the discus.
Ranked number one in the Yakima Valley, and possibly the state, Hess dominated the discus field this past Saturday, making her third consecutive 140 ft.-plus throw.
She easily took first place with a throw of 141-7 at Wapato's Dr. Dan Doornik Field, competing against Valley AA and AAA schools. The second place throw was given by Casey Komstadius of East Valley with a distance of 94-10.
Cool and collected, Hess stepped over the shotput pit, where she also claimed first place honors with a heave of 35-8-1/2.
"It was a great a day for our kids and, of course, Annie dominated her events," said Bickleton Coach Darrell Lang.
Lang said Hess' younger brother, Eric, was the only Bickleton boy to place at the Wapato meet, taking fifth in the discus with a distance of 112-8.
The Bickleton girls, however, were able to claim a fourth and a sixth place finish in the pole vault and the 800-meter race.
Corryn Raschko took fourth in the pole vault with a height of 7-7. Her younger sister, Danielle Raschko, took sixth place in the 800-meter race with a personal best time of 2:45.5.
"We were missing a number of our athletes for various reasons at the Wapato meet, but those who were able to compete had personal bests," Lang said.
For example, Bryan Whitmore, who only recently began throwing the javelin, improved his distance to 116-6.
Orion Yoesle improved his time in the 3,200-meter race to a time of 13:31, while Tyler Jensen improved his time in the 400-meter to 1:00. He also improved his best in the triple jump to 33-7-1/2.
Lang expects to have more of his team back in action this Tuesday when the team travels to Burbank.
.