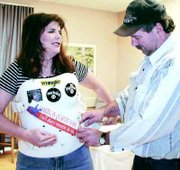 May 29, 2004 was going to be one of those perfect family weekends. The horses, the kids and the husband were loaded in the truck and ready to go.
Jannese Murbach, a nurse in the Sunnyside Community Hospital Family Birth Center, was ready for a horseback riding excursion near the Tucannon River near Walla Walla. When she left work that afternoon she didn't realize it would be five months, and hundreds of hours of care, work and therapy with the help of other health care professionals before she would come back to work at the hospital.
An experienced back country rider, Jannese was riding a young horse that was spooked and reared up, landing on top of her. The accident happened about 30 miles from the nearest phone-inside rugged mountains that made cell phones unreliable. One of the first things she thought about was the children riding with her.
"I didn't want to die in front of my kids. But, I couldn't breathe, I thought my leg was broken, and I knew it was bad," she said.
She points out she was fortunate to be camped next to a group of search and rescue workers. When the accident happened, someone found a large piece of plywood, and she was log rolled onto the impromptu stretcher. They carried her across a bridge over the river, to the back of a pick-up. They slowly wound the truck 30 miles to an RV park, where an ambulance had been summoned and soon transported her to the first of many stops in a five-month initial recovery.
"I lived in the ICU and the imaging department the first day or two," Jannese now recalls.
It was discovered that her pelvis was shattered, her back was broken, and four ribs were crushed. In all, her body was fractured in 18 different spots. Surgery in Spokane produced rods and pins in her back. By the 11th day she was outfitted with a "turtle shell" to hold her together, and therapy became more intense.
Labor and delivery nurses like Jannese have a special regard for life. Places like the hospital family birth center treat their patients, family and long time staff members like an extended family. That knowledge and training gave Jannese a desire to get back to work and an understanding of how important a good nurse can be in the delivery of care.
"For the first few weeks I could put no weight on one leg, and the other one was basically useless because of the break, so I needed lots of help to do most of the basics of life," she said.
"One of the most painful memories of that time was when a nurse in one of the hospitals criticized me when I rang the call button because I needed help getting my body shell on to get to the restroom. I cried and cried, and wondered why that woman had every decided to become a nurse," Jannese remembers.
Back to work since last October, Jannese says that experience is one of many that she recalls when things get busy. She says she never allows what is going on outside a patient room to be more important than taking care of that patient when the call light goes on. While she stops short of saying that the accident has made her a better nurse, she will say it has continued to impact her life.
"I fought to get physically ready to come back to work. I swam and swam, and went to Don Parsons for physical therapy," Jannese says. She still works out and loves to swim, and recently went skiing on vacation.
Jannese tells patients and friends that being in good physical shape saved her life when she was crushed. She says she would have bled to death on that mountain trail if she had not been active all her life.
"Initially there wasn't a lot of pain because I lost feeling when my back was broken. But the recovery period was still awful. I pushed myself hard. If they said walk two steps I did three, I was shaking and sweating. They discovered I had an intestinal blockage at one point, and clearing up that problem was a whole additional challenge.
"One thing I learned is that nurses who care about their patients introduce themselves when they come into a room the first time. Nurses who don't care leave the other nurse's name on the room chart, and don't want the patients to know their names," she said.
She adds that being a patient for five months helped her learn that the little things can be very important to her patients. She also said she pays closer attention when moms who have delivered by c-section come back to their rooms because they can be prone to intestinal problems if not cared for properly.
"Don't assume anything with any patient. Check," she said.
Murbach credits the love and care of her husband and family as being so important in her return to work.
Family Birth Center Manager Donna Dill said other staff members worked hard to cover missing shifts while Jannese was in rehabilitation for her injuries. Jannese came back two shifts per week (12 hour shifts) for a month, and then returned to full-time.