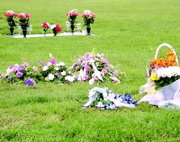 When Lower Valley Memorial Gardens Manager Larry Montague arrived at work the Tuesday after Memorial Day last year, he was confronted by a woman reporting that two women had just left with her planter, one she had placed at a loved one's grave the day before.
"She put it out on Monday and planned to pick it up and take it home early Tuesday morning," said Montague.
Before she had a chance to pick up her planter, she saw two women loading flowers into their car and drive away.
"She confronted them about it, but didn't get a license plate number before they left," said Montague.
Montague said the women had several potted plants in their car.
"During most of the year, once in a while we will have some flowers either stolen or moved from this grave to that," said Montague.
In the case of the stolen items last Memorial Day, he believes the women were taking the plants home to put in their gardens.
The peak time for the thefts is during Memorial Day and Christmas.
During Memorial Day nicer items are placed out at loved ones' graves.
"We get far more complaints then than any other time," said Montague. "At Christmas time people will bring out little Christmas trees."
He said that people will put out small Christmas trees and deck them with small decorations.
"We lose about half a dozen Christmas trees every year," said Montague.
During the winter months is when decorations are left out at Lower Valley Memorial Gardens for an indefinite period of time.
"There is no mowing, so they get to stay there for a long time," said Montague.
He said items, such as silk flowers, placed at graves from the first of November until the first of April are left alone since no mowing is done at that time. He said those who bring out flowers to their loved ones' graves can have them there and then pick them up in the spring for the summer months.
"People will bring nice things because they're going to last a couple of years," said Montague.
He said during the mowing season, there is no longer a specific day that the lawn mowers come through and cut the grass.
"The rule now is when we mow if the flowers are still fresh, we leave them," said Montague, adding that if someone were to bring out flowers on a Saturday or Sunday and they were gone by Monday, there's a good chance they were stolen.
He said the cemetery requests only live flowers during the summer months and no glass vases.
Besides Memorial Day and Christmas, other popular times to decorate graves are Mother's Day and Valentine's Day.
But Karen Graff, who has worked at the local cemetery for more than 20 years, said there have been other instances in the past when there have been other times when flowers have been stolen.
Once a sentimental bowl with fish on it was taken by someone, but it was returned to the owner after she advertised in the newspaper, said Graff.
"We try to tell people not to bring out anything sentimental because we can't guarantee that it will be here," she said.
After a funeral Graff noticed a car pull up and someone, not associated with the family, try to take the casket piece left behind on a grave.
Graff said he was scared off when they confronted him.
Graff estimates they have about a dozen complaints of people stealing flowers on Memorial Day weekend and probably a couple of dozen complaints total each year.
"Most people understand," said Montague. "It mostly happens at night after the cemetery is closed or on the weekends when no one is here."