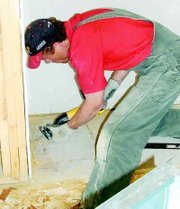 Families looking to purchase a house in the Sunnyside area no longer have to settle for a home where carpets will have to be replaced, cabinets refinished and light fixtures replaced before it begins to actually feel like home. With new subdivisions coming into Sunnyside, families can now watch their dream home go up before their very eyes.
Throughout the community there are new homes sprouting up just about everywhere.
On the south side of town, Aho Construction is building new homes up to 2,500 square feet in size. On the west side of town, L.K. Green and Son Construction is building 1,500 square foot homes.
During April, the Sunnyside Building Division issued five permits for work going on in both subdivisions. The permits were issued for projects with valuations ranging from $156,000 to $111,000. The permits for single family homes were only five of 56 issued by the city last month.
"They will be a wonderful addition to our community," Sunnyside Building Inspector Mike Storms said of the new homes.
He added there is a need in the community for new homes like the ones being built. Storms said it's been nearly a decade since he can remember anyone coming in and building new subdivisions in Sunnyside.
"There's a market for these homes," Storms said.
Storms added that the success developers are having in Sunnyside also points to the need for the new homes. He said no one seems to be having any trouble selling the new homes that are being constructed.
"People here have a need for affordable, starter homes," he explained.
He added that he thinks home ownership is a good thing for the community.
"Once people have a home they take better care of it," he said. "Home ownership is just something that instills pride in people."
The five new single family homes being built in the area are just a sample of the construction Sunnyside saw last month.
In April, the Sunnyside Building Division issued 56 permits, including 28 building permits, 8 mechanical permits and 12 plumbing permits. Three permits were issued to the public works department during the month, each for curb, gutter and sidewalk work. An additional three permits were issued for the installation of water meters, and one permit was issued for both a water connection and sewer connection. Local building inspectors were kept busy last month, performing 444 inspections on projects with a valuation of more than $677,000.