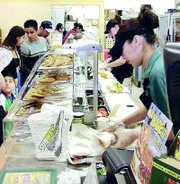 The Tuscan decor of the new Sunnyside Subway shop is the first thing one notices when walking in the door of the restaurant.
Also noticeable is more seating, as well as a drive-thru window, a new feature for the business.
The larger storefront located in the newly constructed strip mall at the corner of Yakima Valley Highway and Lincoln Avenue features stucco wall coverings and a muted Subway cityscape mural. The new design, which has been implemented in all of the new Subways across the United States, also features a realistic brick wall, reminiscent of old-style, brick-oven bakeries.
"We are very pleased with the new design," said Manager Sara Lain. "It's more inviting and comfortable for our customers."
She said the move was prompted by the Subway Corporation's policy that a store has to remodel or move every five years.
"It had been awhile since our store had been remodeled, so we decided to take the opportunity to move as well," said Lain.
With more seating and a clean fresh look, store employees have been busy at their new location making sandwiches for Lower Valley residents since Wednesday, May 4.
Lain said the Subway shop formerly located in the Mid Valley Mall, was closed for a day while she and the Subway crew went down to move all of the equipment over to the new location, setting up for the first day of business.
Since the move, Lain has noticed a slight increase in the amount of business the store has been getting.
With several new features to the menu in the past few years, including a list of seven subs with less than six grams of fat and a gourmet-inspired line of sandwiches, the made-to-order sub shop is now also offering a feature that will allow customers to have their sandwiches toasted if they wish.
Although the new facility is currently open and serving guests, a week-long grand opening celebration is planned for May 20-29.
The celebration will include prize giveaways, discounts and premiums from Subway. There will also be balloons and personal appearances of "Subman" for the kids.
"I'm excited to be able to show off our new Subway store to the people of the Yakima Valley," said Lain. "It has been a long time in the planning and now that it is finally here, it's even better than I'd hoped for."
.