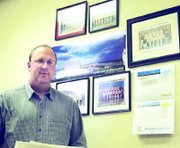 For those who may not realize it, the community of Sunnyside is very fortunate to have one of the best high school boys basketball coaches in the Valley.
Sunnyside Christian Coach Dean Wagenaar has the unique honor of being only one of two Valley boys basketball coaches to have the honor of winning multiple State championships. The other coach being former Grandview mentor Mike Schuette.
However, Wagenaar, 38, is more than just a coach. He serves as principal and athletic director at Sunnyside Christian. And if those two things weren't enough, Wagenaar still finds time to teach.
"My days are pretty fast," said Wagenaar.
Wagenaar has the honor of leading two Knights teams to State 'B' titles. The first was an incredibly talented team in 2002, which featured the likes of Kenton Barry, Lance Den Boer and Daryl Haak. Wagenaar's latest title came this past year, as the Knights dominated the State 'B' tournament with the likes of Jordan Haak and Chad Den Boer. But Wagenaar's championship experience doesn't stop there. Wagenaar was an assistant coach on the very first Knights' boys basketball team to win a State title in 1992.
Wagenaar came to Sunnyside from Northwest Iowa. Wagenaar is a 1989 graduate of Dordt College.
Wagenaar said upon graduating from college he had a number of teaching contracts in his hand, but decided to come to Sunnyside to be closer to his wife's family.
Despite his wife's family being in Sunnyside, Wagenaar didn't think he would be here all that long.
"I didn't know if I would stay in education," admitted Wagenaar.
Wagenaar quickly found plenty to keep him busy. He assisted former head coach Bob Rip for five years before taking over the varsity program
But basketball wouldn't be the only sport Wagenaar would take part in. Wagenaar was the coach of the Knights' track and field program.
"Don't give me credit for coaching it," smiled Wagenaar. "I was basically paid to transport kids. I knew about three events."
When Sunnyside Christian did away with its track and field program, Wagenaar headed up the newly implemented Knights baseball program.
Wagenaar said one of the things that has probably kept him in Sunnyside is that his job is ever changing. Wagenaar pointed out that he ends up with a new job duty about every five years.
"I have always liked that diversity," said Wagenaar.
Wagenaar said he has also stayed in Sunnyside so his children could be around their grandparents.
"It is nice to be close to relatives," said Wagenaar. "It is good for the children to be by their grandparents."
Each of the championship runs Wagenaar has been involved with has been different. Wagenaar said the first one, when he was an assistant in 1992, is kind of a faint memory.
"That seems like a lifetime ago," said Wagenaar. "I think had I not continued to coach and if I had not coached a lot of good teams, I would remember it better."
Wagenaar said one thought that does stand out is the experience of winning that first State title was neat because it was something that had never been done before at the school.
Wagenaar said at the time he was young, working on his Master's degree and life was very busy.
"I remember it being special and extremely special for Bob (Rip)," said Wagenaar.
Wagenaar's first championship group as a varsity coach was a bit different experience.
"The biggest thing I remember was the pressure I put on myself," said Wagenaar.
Wagenaar said the Knights had misfortunes occur at the State tournament in previous years that made the entire experience of trying to capture a State crown frustrating at one point.
But then Wagenaar, with a group of talented players that defined the word team, made what seemed to be a destined championship run at State.
"At a school this size, you don't get groups like that often," said Wagenaar.
After years of frustration, Wagenaar lived out his goal of capturing a State title in 2002, when the Knights defeated St. George, 37-32.
"It was almost more of relief," said Wagenaar describing how he felt after winning his first State title.
The 2005 Knights State title was just as rewarding for Wagenaar, but on a different level. The Knights defeated Willapa Valley, 46-41. Willapa Valley was undefeated going into the championship game. Sunnyside Christian was sparked at the State tournament by an unbelievable performance from Jordan Haak.
"This was probably one of the more relaxing experiences," said Wagenaar. "It was completely enjoyful."
Wagenaar said it was enjoyable for him to be able to stand back as a coach and watch his players, family and fans enjoy the moment.
Coaching has been a bit of an evolving process for Wagenaar. But he said the one thing he has learned is the importance of being able to motivate players.
"If you can't motivate kids, you are not going to be able to coach," said Wagenaar.
Wagenaar said he has also over the years grown more accustomed to seeking help.
"I use to think I was the guru who knew stuff," joked Wagenaar.
Wagenaar said he now likes to have his players develop the game plans with him.
As a coach, Wagenaar hopes he can be a good role model for his players. Wagenaar said he also wants his players to develop a hard-working, dedicated attitude that will carry over into other parts of their lives.
"I want them to learn as young men you have to have a commitment to excellence. Excuses get you nowhere," said Wagenaar. "You (as a coach) can't tolerate excuses because they defeat the moral of a team."
Despite all his success as a coach, Wagenaar said he hopes his players and students remember him as something more.
"I would rather have them remember me for someone who showed up every day ready to go," said Wagenaar.
Wagenaar was named this year's Seattle Times Coach of the Year.
"They are nice honors. That is where it stops. Those awards mean a lot less to me than the pictures on my wall," said Wagenaar, pointing to the pictures of the teams that he has been part of at the State 'B' tournament.
Wagenaar said winning State titles has been something he will always remember, but he has always told his players to accept the honor by being humble and with humility.
"They are neat to look at," said Wagenaar of the trophies. "But it is the journey that counts."
Wagenaar has been able to enjoy the journey with his son Trevor, who has been a regular at the State tournament for the past seven years.
"That is pretty special," said Wagenaar.
There has also been one special person, who has not necessarily been a cheerleader as much as she has been a balance in Wagenaar's life, and that is his wife, Glenda.
"She is not a basketball fan at all. She likes to see us do well and that is about it," said Wagenaar.
Wagenaar said he will come home some nights after a game and Glenda will more often than not ask how things went. Sometimes she won't ask at all, but rather is more curious about how her husband's day went.
"That helps me realize all the time that it is just basketball," said Wagenaar.
.