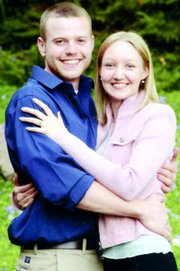 The North Shore Bible Church in Manson will be the Aug. 13, 2005 setting for the marriage of Lindsay Marie Pittman to former Sunnysider Craig Michael Timmermans.
The bride-to-be is the daughter of Rick and Kathy Pittman of Manson. Timmermans is the son of Bill and Linda Timmermans of Sunnyside.
She is a 1998 Hazen High School graduate and a 2003 graduate of Washington State University.
He is a 1997 Sunnyside High School graduate and a 2002 Washington State University graduate with a Bachelor's degree in criminal justice.
The engaged couple currently lives in Lake Wenatchee, where she is an advertising account executive for Prairie Media, Inc. Timmermans is employed by Line Construction.
More like this story