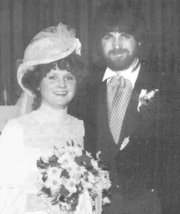 Tom and Sharon (Kirk) Dolan will celebrate their 25th wedding anniversary with a family trip to Hawaii.
The couple was married May 24, 1980 at St. Joseph Church in Sunnyside.
Mrs. Dolan is employed with the U.S. Postal Service and Mr. Dolan is a teacher of vocational welding at Sunnyside High School.
The couple has four children, Jason, Derek, Tyler and Molly.