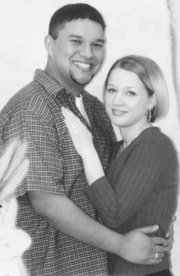 The Sunnyside home of Lynn and Joe Hawes will be the setting of the wedding ceremony uniting Jenneil (Liebich) Hawes and Jose Guillen Jr. The couple are planning a late afternoon ceremony at 5 p.m. Saturday, Sept. 3, 2005.
The bride-elect is the daughter of Lynn and Joe Hawes of Sunnyside. She received her GED from Yakima Valley Community College and also attended the college for two years studying physical education.
The groom-to-be is the son of Jose Guillen Sr. of Prosser and Irma Jasso of Grandview. He is a Sunnyside High School graduate and attended the University of Washington and Washington State University, where he studied computer science.