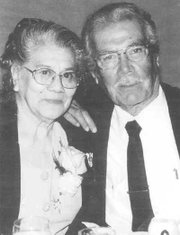 Estanislado and Josephine Hernandez of Grandview celebrated their 50th wedding anniversary with a renewal of their vows at the Sunnyside Apostolic Church Saturday, May 7. The ceremony was followed by a reception hosted by their children at the Granger Lion's Club hall.
The couple was married March 6, 1955 in San Jose, Calif. They moved to the Lower Valley in 1961, where they raised their family.
The couple has three children, Debbie Hernandez Pulido of San Jose, Calif., Dan Hernandez of Grandview and Dina Hernandez Navejar of Pasco.
Mr. Hernandez is a retired farmer and Mrs. Hernandez is retired from Independent Foods. She is currently employed by Yakima County Food Services.