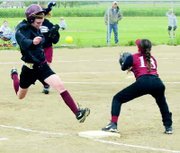 When all the cylinders are firing, the Sunnyside Christian High School girls fastpitch softball team is nearly untouchable.
Such was the case yesterday. Resembling a finely tuned machine, the Lady Knights zipped past Grandview, 6-0. The non-league victory by the class 'B' Lady Knights over the 2A Lady 'Hounds avenged a loss Sunnyside Christian suffered to Grandview back on April 12.
"For sure, it was our best game of the year," said SCHS Coach Sandy Harris.
The win boosted Sunnyside Christian's overall record on the season to 15-3. Grandview slipped to 4-10.
As with any good fastpitch team, success always hinges on the arm of its pitcher. Yesterday for Sunnyside Christian, hurler Emily Hernandez delivered a performance that all of her teammates could rally around. The diminutive spitfire allowed just two hits in going the distance. Hernandez didn't issue a single walk along the way, and took care of seven Grandview batters by herself by setting them down on strikes.
"She pitched very well," said Harris. "Emily was very focused and in control."
Hernandez was also backed up by some incredible defense from her teammates. The Lady Knights, despite being charged with one questionable error, gobbled up everything smacked their way.
"Our defense was excellent," said Harris. "Earlier in the season we were having trouble covering bunts and slap hits. But we've been working on that, and yesterday we fielded everything."
One of the highlight defensive moments was a double play the Lady Knights turned. A line drive was snared by second baseman Tori Van Wingerden, who promptly flipped the ball to center fielder Jacqui Roberts, who was covering the second base bag and doubled up the runner before she could tag.
"With our bunt and slap defense our shortstop had to move to third on the play, which meant Jacqui had to come in out of center and cover second," explained Harris.
Offensively, Sunnyside Christian could only muster four hits off Grandview pitcher Mari Cornejo. But boy, did the Lady Knights make the most of them.
"We only had four hits, but they were timely," Harris said. "We took advantage of the four Grandview errors and the four walks they gave up to us."
The Lady Knights opened the scoring in the bottom of the third. Two fielding errors on the part of Grandview allowed Roberts and Brittany den Hoed to reach base. The mistakes proved costly for Grandview, as Van Wingerden stepped up and cracked a single to right-center, scoring both runners.
It appeared as though Sunnyside Christian was going to go away quietly in the bottom of the fifth, as the first two batters couldn't reach base. Cornejo, though, began struggling with her control and walked three straight batters. With the bases juiced, Carly DeGroot made the Lady 'Hounds pay, socking a three-run double to right-center.
Sunnyside Christian added an insurance run in the bottom half of the sixth on an RBI single off the bat of Tyssyna Van Wingerden. She finished 2-for-3 for the game.
"Everyone contributed," said Harris. "It was a real team effort."
The Lady Knights, 10-0 in Greater Columbia 'B' League play, will travel to Mabton (8-2) this coming Saturday for the final league doubleheader of the season. Sunnyside Christian needs just one win over the Lady Vikes to secure the conference crown, while Mabton needs a sweep to claim top honors in league play.
. G'view 0 0 0 0 0 0 0 -0 2 4
SCHS 0 0 2 0 3 1 x -6 4 1
Cornejo and Cruz. Hernandez and Ty. Van Wingerden. Hits-(SCHS) Ty. Van Wingerden 2/3.