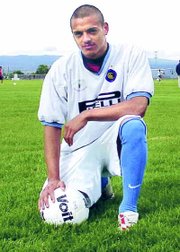 He is often referred to by his coach as having the feet of an angel. This Thursday night, reigning Mid-Valley League player of the year Junior Garcia (and his feet) will be leading the Sunnyside High School boys soccer team into the opening round of the postseason against Selah.
Garcia, 18, will be preparing to help the Grizzlies make a push towards the State tournament after Sunnyside fell a game short of qualifying for the trophy round last year.
Garcia came to Sunnyside from Mexico when he was 3 years old and has practically had a soccer ball with him ever since. Garcia said he started playing soccer when he was 6 years old and hasn't strayed from the game yet.
"My dad (Severino) used to play soccer and all my brothers play soccer," said Garcia in regards to how he became interested in the sport. "I have always just liked the sport. I like running around. I hate standing still."
When Garcia is not dazzling Mid-Valley League fans with his extraordinary soccer abilities, he is busy playing in the local Mexican soccer league. Garcia said the league usually plays right up until school starts in the fall. Garcia also takes part in an indoor soccer league in the Tri-Cities.
But being what many consider the best high school soccer player in the area is not as easy as some might think.
"It is pretty frustrating sometimes," said Garcia. "It puts a lot of pressure on me. I really don't care what people think. I just keep my head up and keep playing."
One area that Garcia has felt very humbled by is the respect he receives from other players, coaches and officials during games.
"It feels good knowing I am good at something a lot of people want to be good at," said Garcia.
After high school, Garcia plans to attend Wenatchee Community College with his fiancee, Elizabeth Ramos, and his friend, Luis Galvan. Garcia said he wants to play soccer at Wenatchee.
"I like it there," said Garcia of the college, adding he is looking forward to playing with Galvan again.
What many soccer fans may not realize is that Garcia is able to maintain his high level of soccer skills while keeping up with other parts of his life that many young men his age don't have to deal with. Garcia and Ramos have a very adorable 1-year-old son that keeps them both busy. Ramos also attends college and the two still find time even with school to hold down jobs.
Garcia said he initially planned to try out for a professional soccer team after graduating, but his fiancee told him he needed to go to college.
"She is right," said Garcia. "In case I get hurt, I have something to fall back on."
Garcia said he wouldn't be where he is today if it wasn't for his fiancee helping him out. Garcia even has a little pregame ritual he does with Ramos that hasn't failed him yet.
"I always give her a kiss before I go out on to the field," said Garcia. "I always think every time I kiss her I play better."
When Garcia does have spare time he spends it with his family. Garcia said a lot of his time is spent going to school, practice and then work. Garcia is also an avid fisherman. Garcia said he likes hitting the water in the summer months.
As a player, Garcia really broke out and gained people's attention his sophomore season. After scoring 18 goals as a varsity freshman, Garcia exploded for 46 goals his sophomore year. Garcia attributes his sophomore exploits to hard work.
"Right after my freshman year I would come out and play soccer every day," said Garcia. "That is how I got better. That year, I just came out with everything I had."
The hard work paid off as Garcia was named the Washington State High School Soccer Player of the Year his sophomore season and captured the first of two league player of the year honors.
He is now the leading all-time scorer at Sunnyside High School. While he is still working on final numbers, Garcia took the school scoring record from his coach, former Grizzly soccer standout Juan Pineda.
"He supports me a lot," said Garcia of Pineda.
Garcia said his coach always tries to help with advice. Garcia said some of his favorite moments are when he sits down and talks with Pineda about soccer and other things.
This year, Garcia accomplished a very unique moment in his career, scoring his 100th goal in a game against Wapato.
"It felt pretty good," said Garcia. "I never thought I would get up to this point."
Garcia said he is ready for the postseason on Thursday night and has full confidence in his team that the Grizzlies will be able to go far.
"I think we are ready," said Garcia. "I am hoping we get further than last year. I know we can if everybody stays focused."
On a personal note, Garcia said he is glad to have been part of the amazing turnaround with the Grizzly soccer program under Pineda.
"I remember soccer here when people wouldn't come out. Now people come out and watch us here," said Garcia. "I think I did my part (to help make the program better). I hope I stay remembered in Sunnyside."
.