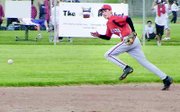 The Sunnyside High School baseball team took destiny into its own hands yesterday and took care of business with an impressive sweep of visiting Hanford to secure a postseason berth.
On an afternoon where it look liked destiny would take a different turn, the Grizzlies stepped up with one of their finest performances of the season, sweeping the Falcons 7-0 and 7-4, to nab the Mid-Valley League's No. 4 seed into the postseason tournament.
The day didn't start off too promising, as the game officials didn't show up for the 2 p.m. start time, but luckily Rudy Ramos was able to fill in until they arrived. Then there was the menacing storm clouds that hung overhead, but the rain stayed away and it was the Grizzlies that brought some thunder.
Another notable part of yesterday's happenings was there remained an outside chance the Grizzlies could have not made the playoffs if Wapato had beaten Ellensburg and the Grizzlies had lost to Hanford. The Wapato-Ellensburg and West Valley-Selah games were postponed yesterday because of the massive rainstorm in Yakima on Monday. So this left the Grizzlies with fate in their own hands.
Sunnyside's manhandling of Hanford is even more noteworthy because this is the same Falcons team that took Mid-Valley champ West Valley to the limit this past weekend and split earlier in the season with another state-ranked team, Selah.
"We took care of business," said Sunnyside Coach Dave Martinez. "We have finally come together."
In the opener, Joel Zakahi was brilliant on the mound, improving to 5-1 on the season. Zakahi scattered six hits in 5-2/3 innings while fanning four and walking just one.
"Joel pitched great," said Martinez.
Zakahi was deadly early on, coming up with big pitch after big pitch. No Hanford runner got to third base off Zakahi until the fifth inning.
Zakahi helped his own cause in the third inning when the Grizzlies busted the game open, plating four runs. With two outs, Chris Newberry walked and then stole second. Sunnyside loaded the bases when Cole Boboth and Derek Uberuaga both drew walks. In a tenacious at-bat, Zakahi ripped a double to plate a pair of runs. Eric Crimp, who had a fantastic afternoon at the plate, singled to score Uberuaga. Tyler Esqueda then laced a base hit to bring in Zakahi.
The Grizzlies had nine hits in the opening game, led by the 3-for-4 performance from Crimp.
"The kids executed," said Martinez.
The nightcap proved a bit more difficult for the Grizzlies, but it wasn't because of anything Hanford did.
Sunnyside rallied with seven unanswered runs in the nightcap to win 7-4.
"The first three innings were like a 180 of the first game," said Martinez.
The Grizzlies committed all four of their errors in the second game in the first four innings and had four baserunning mistakes in the first three frames.
Sunnyside turned things around in the bottom of the fourth, scoring three runs. Newberry started the inning with a single and then moved over to second after Boboth hit into a groundout. Uberuaga then walked and Zakahi singled to scored Newberry. Crimp then singled to plate Uberuaga. With two outs and the bases loaded, Lucas Ramos was hit by a pitch to bring in Zakahi.
The momentum switched for good in the top of the sixth inning. With two outs and a runner on first base, Hanford hit a ball to the fence in left center. Newberry relayed the ball to Esqueda, who threw the ball to catcher Pete Marquez for the final out. Martinez said that play fired up his team.
Sunnyside pulled ahead for good with a three-run sixth inning. Cullen laid down a squeeze bunt to score Crimp for what proved to be the game-winning run.
The Grizzlies (6-6, 11-9) will now face the Greater Spokane League's No. 3 seed next Tuesday.
Martinez said he was impressed how his team came together for both games, particularly how the Grizzlies rallied in the nightcap.
. 1 2 3 4 5 6 7 T H E
Hanford 0 0 0 0 0 0 0 0 0 6 1
Sunnyside 0 0 4 0 0 3 x 7 9 2
Pitching-Joel Zakahi four strikeouts, six hits and one walk in 5-2/3 innings. Tyler Cullen two strikeouts and two walks in 1-1/2 innings.
Hitting-Chris Newberry 1-for-2. Joel Zakahi 1-for-2 with a two-run double in the third inning. Cole Boboth 2-for-3. Eric Crimp 3-for-4. Tyler Esqueda 1-for-4. Pete Marquez 1-for-4.
1 2 3 4 5 6 7 T H E
Hanford 1 0 2 1 0 0 0 4 4 1
Sunnyside 0 0 0 3 1 3 x 7 9 4
Pitching-Derek Uberuaga three strikeouts, four hits, three walks in six innings. Tyler Cullen two strikeouts in one inning.
Hitting-Eric Crimp 3-for-3. Chris Newberry, Cole Boboth, Joel Zakahi, and Tyler Cullen were all 1-for-3. Pete Marquez 2-for-4.