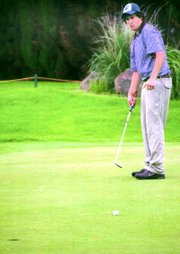 Grandview's Sean Tudor posted a respectable 9-over-par 81 yesterday at Black Rock Creek Golf Course to pace the Greyhound boys team. But with numerous golfers scoring in the 70's, the Grandview linksters settled for a third place finish in the five-school field.
Tuesday's competition wrapped up CWAC play for the 'Hounds. Grandview finished with an 11-9 conference record, behind first place Othello (20-0) and East Valley (14-6). Toppenish (5-15) and Naches Valley (0-20) finished fourth and fifth, respectively, in the league standings.
Tudor fired a 4-over 40 on the front side yesterday, almost mirroring his performance with a 41 after the turn.
Teammate Andrew Michels, had he parred the treacherous, par-5 sixth hole, would have tied Tudor for team honors. Unfortunately, Michels absorbed a 10x on the hole and had to settle for an 86 (45-41).
Also shooting 86 for the 'Hounds was Ryan Dill. He stumbled a bit on the front side with a 44, but cut his back nine score to a 6-over 42.
Spencer Lewis rounded out the scoring for Grandview by carding a 90 on front and back scores of 48-42.
The 343 team score Grandview tallied at the five-school match was seven strokes back of second place finishing East Valley (336). The Red Devils were led by Ryan Tjarnberg, who shot a 4-over 76. Othello, undefeated in league play this season, finished first yesterday with a team total of 307. Bart Patitucci, who has to be everyone's pick for league MVP this season, earned medalist honors Tuesday with a 1-over 73 to power the Huskies.
The closest anyone came to taking medalist honors away from Patitucci in league play this season happened yesterday, though. Toppenish's Adam Story, a sophomore, was just one shot back of Patitucci with a 2-over 74. Story toured the front nine with a 3-over 39, then got hot on the back side and closed with a 1-under 35.
Story's brother, Tyler, and Othello's Jason Brault tied for fourth low individual round Tuesday. The two each carded a 5-over 77.
.