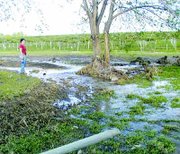 It's not often the Lower Yakima Valley experiences flash floods, which is why Monday's unusual weather caught Bridgman Road resident Kathy Schaneman off guard.
Today, Schaneman is cleaning up the mess left in the wake of a four-foot wall of water that swept through her North Sunnyside area property.
Schaneman said the flood hit her property after she left for work Monday morning, a little before noon.
Thanks to the fast thinking of her neighbors, none of her horses or goats were lost in the flood, but one of the family watch dogs nearly drowned in the torrent.
The icy waters swept through a draw below her house, wiping out hundreds of feet of pasture fence, a training corral and flooded Schaneman's horse barn.
"The only ones happy about all of the extra water are my family of geese," Schaneman said. The water overtook the sides of a small stream which runs behind the barn, cutting across Schaneman's property.
"We've had high water in the spring in past years," she said. "But this is the first time we've seen this kind of flood damage," she added.
Like most Yakima Valley residents, Schaneman said she had been praying for relief from the 2005 drought conditions affecting her Roza Irrigation District farm.
"I just didn't expect to get it all at once," she added.
The water, which cut a wide swath through the vineyards above her property, washed through the draw where her pastures and livestock barn are situated before making its way into the Roza Canal.
The flash flood wiped out her immediate neighbor's chicken farm and damaged area farmer Mark Larson's alfalfa field to the west of Bridgman Road.
"We were told the flood waters from the gullies high in the Rattlesnake Hills to the north of us," said Schaneman.
The unexpected floodwaters were the result of Monday's thunderstorms, which caused flooding and tornado alerts in various parts of the Valley. Most of the damage to the Valley was confined to Yakima.
Meanwhile, Schaneman, with the help of her family, is picking though the broken fences and trash, trying to determine the total amount of the damage to her farm.
"The costs of repairs and replacement fencing is going to come out of my pocket," she said.
"Who knew we'd need flood insurance in the desert," she said, adding her homeowner's insurance doesn't cover flood situations.
She estimated it may take the rest of the summer to recover from the unusual flood.
"Fortunately, no one was hurt," she added. "But it sure caused a mess."
&nbsp