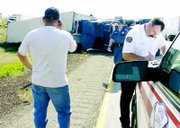 A Pasco man traveling in his privately owned semi-truckthis morning from Pasco to Yakima drove the vehicle off I-82 near milepost 67, laying the front end of it in the left-hand lane of eastbound traffic.
Ricardo Saenz, 28, the driver of the semi-truck, reported to Washington State Patrol troopers that he fell asleep at the wheel and crossed the left-hand lane of westbound traffic and the median before flipping the truck on its side in eastbound traffic.
Saenz was not injured in the wreck.
The truck's trailer was empty at the time of the crash, which occurred just outside of Sunnyside at about 10 a.m. Thursday.
Sunnyside Fire Department personnel responded to the crash to assist with a small diesel spill, according to troopers on scene. Washington State Department of Transportation workers also arrived on-scene to assist with clean-up.
Although the driver claimed to have fallen asleep, the state patrol is still investigating the crash.