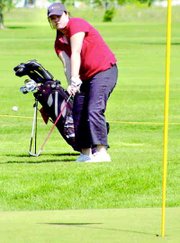 The Sunnyside High School girls golf team settled for a third place finish at yesterday's four-school Mid-Valley League match.
Nicole Southern turned in the low score for the Lady Grizzly linksters. She carded a 121 in the match, staged at Sunnyside's Black Rock Creek Golf Course.
Southern also had the lowest nine-hole score of any of the Sunnyside golfers. She scooted around the front side with a 58, absorbing a 63 after the turn.
"A 58 is a really good nine-hole score for Nicole," said Sunnyside Coach Gary Rohde.
Selah's Megan St. Clair, Wednesday's medalist with a 22-over-par 94, led the Vikings to first place honors yesterday. Selah also got a 102 from Shyna Floyd, a 107 from Myca Taylor, as well as a 108 from Laura Greiner, to tally a match best team score of 411.
Ellensburg, behind the 114 posted by Kim Ellis, placed second with a team score of 470.
Sunnyside was third with a team tally of 514. Prosser only had two girls at the match and was ineligible for team scoring.
Although Southern was Sunnyside's low scorer, teammate Megan Downing was close behind. Downing came in six strokes back of Southern, finishing with a 127 (65-62). Downing's back nine 62 was aided immensely back the birdie she opened with on No. 10.
Third in for the Lady Grizzlies was Dacia Drollinger. She struggled on the front side in absorbing a 67, but cut her score to a 64 after the turn to finish with a 131.
"Dacia likes shooting better than she did on the front nine yesterday," said Rohde. "And usually, she does."
Rounding out the team scoring for Sunnyside was Vicky Castro's 135 (65-70).
.