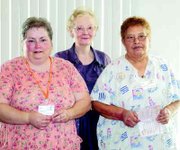 Hillcrest Manor's dining room was packed Wednesday afternoon for the annual employee appreciation tea, as 46 of the facility's 85 employees gathered to attend a ceremony honoring long-time co-workers.
The tea honored employees for five, 10, 15, 20 and 25 years of service to the community elders.
Among the guest speakers was Wanda Stokes, whose father, Charles Awbrey, is a resident at the Sunnyside elder care center.
"I've been so very impressed with the way all of you meet the needs of the elders in your care. My family is deeply grateful for the care you give. I've been overwhelmed by your care of the residents," Stokes said.
Among the other guest speakers was Pat Norris-Broady of Kadlec Medical Center in Richland. She explained how the Richland medical facility has begun to adopt a more user-friendly environment at the Tri-Cities medical center. She said the changes are being made to mirror the Eden format currently in use at Hillcrest Manor.
The Eden concept, adopted several years ago at Hillcrest Manor, involves creating a more home-like facility for the senior citizens, including the adoption of pets by residents and relaxed meal times.
Norris-Broady said the Tri-Cities hospital now has a volunteer who plays soft music in the critical care unit to help ease the tension felt by family members.
In addition, family and patients can get food or snacks at any hour of the day. "We've also initiated valet parking to help families access the hospital in time of emergency," she added.
Virginia Madrigal of Sunnyside was named Employee of the Year at the nursing facility. Madrigal, a restorative aide, has been employed by Hillcrest Manor for six years. "She is described as being a kind, gentle, warm and pleasant person," said Mary Arthur, Hillcrest Manor administrator.
Madrigal received a $50 gift card and a plaque. In addition, her photograph will be used on the health care facility holiday greeting card, along with that of a resident, Arthur explained.
Honored for 25 years of service to the facility's residents were Laura Tollefson and Rosa Ovalle.
Tollefson is the facility's activities director and Ovalle is a facility housekeeper.
Honored for 20 years of employment was Evon Morris, the Manor's dietary services manager. Given her pin for 15 years of employment was Dacia Smith, a registered nurse.
Sonya Berkompas, who works in medical records, was awarded her 10-year employment pin.
Receiving five-year pins were Cruz Hall, office manager, Ana Garcia, treatment nurse, Aurora Ochoa, housekeeper, and Manuela Espinoza, a certified nursing assistant.