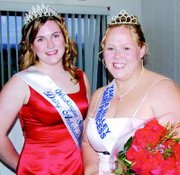 t
Sunnyside High School senior Desiree Pritchett was named the 2005 Yakima Valley Dairy Princess during the annual Yakima Valley Dairy Princess coronation and banquet last night.
Pritchett, the daughter of DeWight and Lillian Pritchett, will represent the Yakima Valley dairy industry at community events, including fairs, parades and community celebrations.
The ceremonies held at Sunnyside's RC's Casino and Restaurant Thursday night also saw Yakima Valley Dairy Women gathered to honor friends of the dairy industry.
Named as the 2005 Friend of the Industry was Ruth Anglin, who is the Central Washington State Fair activities manager. Anglin was instrumental in aiding the Yakima Valley Dairy Women Association to establish a presence at the state fair, according to Carol van Slageren, association president.
Anglin, who has worked with the fair board for the past 20 years, has done a great deal to promote Yakima Valley agriculture, said van Slageren.
"She was instrumental in helping us to establish an ice cream booth at the state fair each September," said van Slagergen.
In addition to the awards, the dairy women presented two $1,000 scholarships to students seeking careers in ag-related businesses. Scholarship recipients are Oscar Sanchez of Granger and Phillip Golob, also of Granger. Sanchez is a Yakima Valley Community College student, who plans to transfer to Washington State University to major in veterinary medicine. Golob, a University of Washington student, is majoring in mechanical engineering.
Also attending last night's ceremony was Washington State Dairy Ambassador McKenzie Klein of Lynden. Klein is touring the state visiting schools and area trade and health fairs representing the state dairymen's association. She aided in Pritchett's coronation as this year's new dairy princess.
The local dairy princess program is sponsored by the Yakima Valley Dairy Women, who have been involved in the program for the past 50 years.
Julia Hart/Daily Sun News