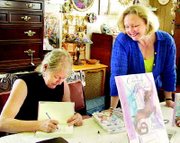 PROSSER - Maybe it's ironic that the first published novel by Jena (Shedd) MacPherson and Joanne (Dorsey) Otness is entitled Chasing Galahad.
In many ways, much like the characters of their story, the two have been on a quest of their own. The friends' quest is to tell a story unlike any other and have it published. It has been a dream they have been pursuing since the two were in their late 20s.
Prosser natives MacPherson and Otness, who published the book under the pseudonym Molly Charles (Molly after MacPherson's dog and Charles after Otness'), have been life-long friends and have been writing together for a number of years.
Although Chasing Galahad is the first novel they have collaboratively written that has been published, they have four other manuscripts that they have tried to sell in the past, but ultimately abandoned.
Chasing Galahad is a romantic quest and a story about a second chance at love. The story takes Zephronia Halliday and Ty McHugh around the world in search of a carousel sea horse (Galahad). In the beginning of the story the sea horse is purchased by McHugh, who spitefully buys the carosel figure to keep it out of the hands of Halliday, who broke his heart as a teen. After purchasing Galahad and then giving it away, he finds out that she was attempting to purchase the rarity for a children's park in Portland, Ore.
In search of the seahorse, which changes hands several times, the two have a second chance at love and making family wrongs, right.
MacPherson, a former staff editor and travel writer for Sunset Magazine in Seattle and the author of Travel Smart-Pacific Northwest, remembers first being inspired to write as a junior high student after she won a writing contest.
"I grew up west of Prosser on a mint farm," she said. "I come from a family that revered literature and the written word."
As a young girl growing up in the country, Otness said the book mobile would stop by her home.
"I would pass the long summers reading," she said.
The two, who first met in their first years of elementary school, graduated from Prosser High School in 1967 and went on to the same junior college before attending the University of Washington.
When the two graduated, the idea of writing a book together had not crossed their minds. They had been more interested in writing each other notes in class than writing a book.
It wasn't until the two were in their late 20s that the idea of writing together became an idea that they decided to pursue.
With a degree in communications with an emphasis on copy writing, MacPherson was working for a large international advertising agency in a high-stress position.
At the time that MacPherson decided to give it up and return home, Otness was giving up her career as an international airline flight attendant to have her first child.
Going through drastic life changes, the two wrote a three chapter, non-fiction book proposal, which an editor at Bantam House was interested in buying.
It wasn't long until the two realized that they could write a few chapters, but not an entire book.
It was a short time later that the Romance Writers of America held a national meeting in Seattle and the old friends attended classes outlining the process of writing a book.
"We've been working on writing and learning writing for 10 years," said Otness.
A booming genre, in the 1980s thousands of romance books were printed, but now the market is more competitive and it usually takes a writer three or four manuscripts before one is purchased. The process then involves numerous re-writes and fine tuning, according to Otness.
Learning the craft, the two decided they wanted to have an object central to their story. After much searching, MacPherson found a photograph of a carousel seahorse, which is now on the cover of their book.
Working for Sunset Magazine, MacPherson found a photograph of the seahorse in an antique art book that was sent to her for review. The carousel seahorse actually exists.
"It jumped off the page with its personality," said MacPherson.
The two decided to name the seahorse Galahad, after the highly moral and youthful figure of Arthurian legend.
"We set out to write something with a quest in it," said Otness.
Building on the fairy tale theme, the two reinforced the idea of the Arthurian influences with such ties as naming the cat in the story.
MacPherson added that all relationships begin in fairy tale and grow from there.
The process of coming up with a pseudonym was almost as big of a process as writing the book.
With a list of names that used variations of grandmothers names and other familiarities, they finally agreed to go with their dogs' names.
Being life-long friends who grew up together, traveled together and even pledged for their college sorority together, has made writing a book together somewhat easier.
With MacPherson currently living in North Seattle and Otness in Edmonds, they spend time together working on a book or keep in contact via e-mail. They also meet to brainstorm plot points.
Rather than disagreeing on the way a book should progress, the two enter into a "what if" process of developing a story idea, said MacPherson.
Not wanting to sit back on their publishing sucess, the two are already working on their next book, which is set in Hawaii. With an edgier hero, the two are excited about the new storyline.
They are also working on developing a book based in the Yakima County wine country.
Both MacPherson and Otness have deep ties to the Lower Valley.
Otness is the daughter of Kermit and Jean Dorsey of Grandview and the niece of Keith and Dona Dorsey of Outlook. Her grandparents were pioneers to the Outlook area.
Although most of MacPherson's family is no longer in the Lower Valley, she is also the descendent of local pioneers.
"My grandparents were wheat and mint farmers," she said.
Chasing Galahad, which is now out in hard cover, is published by Five Star and is available on-line and at libraries. A limited number of copies will also be available at Bonnie's Vine and Gift, 329 Wine Country Road, in Prosser.
. Melissa Dekker can be contacted at (509) 837-4500, or e-mail mdekker@eaglenewspapers.com