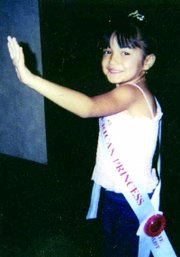 For the third time, 9-year old Jasmine Sandoval-Torres will be competing for a national American Miss title. In the past she has been selected as a finalist as she vied for the Little Princess title, but now the youngster is seeking the Jr. Pre-Teen title, according to her mother, Letty Torres.
"It's fun because we get to do all these things, such as community service, with her," said Torres.
Part of the judging is based on community service the Outlook Elementary School third grader does in her community.
Torres said her daughter will be performing community service at Columbia Crest Eye Care, the doctor's office Torres is employed by, and at Out Lady of Guadalupe Catholic Church in Granger. The youngster will be helping with cleaning at both locations. She is also planning on helping with upcoming church sales, which will benefit the parish.
"She's really involved in the church," said Torres.
Sandoval-Torres will also be judged on talent, writing a thank you note to a sponsor, community service and selling advertising, according to Torres. She will also be interviewed by judges.
Although the pageant is still a few months away, scheduled for Sept. 2 and 3 at the Sea-Tac Doubletree Convention Center, Sandoval-Torres is already looking at what kind of talent she wants to perform at the competition.
"She's thinking about dancing, but we're not sure yet," said Torres.
Although Sandoval-Torres is seeking the Jr. Pre-teen title, she has already received a crown, sash and trophy for her participation in the program.
"She's gotten a trophy for everything she's done," said Torres.
But besides the crowns and trophies, Torres said the benefit of her daughter's involvement in the program is that she has an opportunity to win scholarships for school.
The winner of the pageant this September will receive a $1,000 cash award and travel expenses to the national pageant at Disneyland in California.
Sandoval-Torres' interests include reading, dancing and church activities. She helps take care of her younger siblings and helps her family with the cooking.
She is sponsored by Columbia Crest Eye Care, Lower Valley Eye Care, Dr. Mark A. Michael, Dr. Paula Schott and Charlies Buildings. She is the daughter of Letty and Rogelio Torres.