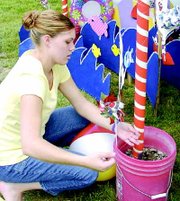 GRANDVIEW - Emotions were worn on the sleeves of survivors as they shared their progress with one another taking the first lap of the 9th annual American Cancer Society Relay for Life fund-raiser held at Leenhouts Stadium in Grandview this past weekend. More than 100 cancer survivors, wearing deep purple shirts, walked the first lap, kicking off the event.
The 24-hours event, which had people walking the track at all times of the day and night and even in the rain, was triumphant as $113,646 was raised as part of the fund-raiser for cancer research.
Several cancer survivors, including Ken Ruppert, who was diagnosed with a tumor in 1997, have been participating in the event since its inception.
Now in remission for five years, he said he comes back to the event for the encouragement and strength he gives and gets from the event.
He added, "I've benefited personally from research."
Arthur H. Smith School teachers Sally Mendoza and Becky Knott set up a booth in honor of a second grader at their school, who was diagnosed with leukemia this year.
Franky Espinoza is in Mendoza's second grade class this year and was in Knott's first grade class last year.
"That's what really inspired both of us to get involved," said Mendoza.
The school has been holding fund-raisers for the young boy since finding out about his condition.
Also walking this year was Veronica Rodriguez, who walked with the Grandview High School softball team's group.
The 2003 graduate of Grandview High School said her grandmother died a year ago last Christmas of cancer and she feels it's important to continue supporting cancer research.
"We do it every year," she said. "We're walking for her today."
Tim Smith, who chaired the 9th annual Relay for Life event, was pleased with the success of the event even if it did rain some.
"It dampened the clothes, but it didn't dampen the spirits. People continued to walk," said Smith.
Although they were shooting for $121,000 for the American Cancer Society, he feels they will be close as additional monies come in over the next few days.
The $113,000 raised was quite a bit more than was raised the year before, which was about $97,000.
Smith said more than anything he was touched by the stories cancer survivors shared with him.
"There were a few folks who came up to me and talked about how they have benefited from Relay for Life," said Smith.
The team that raised the most money for the event was one of the 14 teams from the Wal-Mart distribution center. The team raise $9,440. Bringing in the second highest amount was Prosser School District's Jennifer's Hope team, which raised $4,783. The R.E. Powell team raised the third highest amount at $4,571.
Smith said awards were given for tent decorations. First place went to the R.E. Powell team, that had a movie night for children attending the event. Second place was given to Wanna Bees, who decorated their tent with bees and American flags. Third place honors went to the Prosser School District's Jennifer's Hope team.
The top individual fund-raiser for the event was Sororro Castilla, who raised $856. Second place honors went to George Graff, who raised $450 and Judy Carrick was third place with $448.
Frank Allec was presented the Dee Parson's Memorial Award, according to Smith.