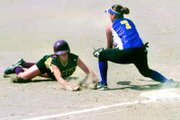 MABTON - A doubleheader sweep over the Mabton High School girls fastpitch softball team this past Saturday gave Sunnyside Christian the Greater Columbia 'B' League northern title.
It is the second straight year the Lady Knights (12-0, 17-3) have won the conference championship.
Had Mabton (8-4, 12-8) swept the two games Saturday the Lady Vikes would have shared first place league honors with Sunnyside Christian. As it turned out, Mabton is the runner-up in the northern division. Both teams now advance to the District tournament, to be staged in Zillah this coming Saturday.
The Lady Knights defeated Mabton by scores of 15-5 and 11-1 on Saturday. Neither contest went the full seven innings, as the 10-run mercy rule came into play in both games.
In what SCHS Coach Sandy Harris described as her team's best hitting game of the season, the Lady Knights piled up 14 hits in the opening 15-5 rout.
"We started off great, and the hits just kept coming," said Harris.
A sign of things to come may have been signaled in the very first at-bat of the game. Lead-off hitter Brittany den Hoed launched a solo homer to open the contest. She finished with three hits in five trips to the plate, which included driving in two runs.
Sunnyside Christian also got three hits apiece from senior Tyssyna Van Wingerden and freshman Emma Newhouse in the opening game. Van Wingerden, who was 3-for-4, collected three RBI in the opener while doubling in the first inning. Newhouse's 3-for-4 performance included lashing a sixth inning double. She also drove in a team high four RBI in the first contest.
Coming through with 2-for-4 efforts were Courtney Rice and Emily Hernandez. Rice piled up three RBI in the opening game, which included socking a two-run homer in the fourth frame. Hernandez had a third inning double.
In the losing effort, Mabton's Patty Mendoza turned in a 2-for-3 effort at the plate in the first game, which included spanking a second inning double.
Hernandez was a dynamo for the Lady Knights in the opener, as she recorded half of the Mabton outs all by herself, setting nine Lady Vikes down on strikes. Hernandez scattered seven hits in the first game.
"Getting nine of the 18 outs, you'd have to say Emily (Hernandez) pitched a pretty good game," said Harris.
Her counterpart, Mabton hurler Alida Mendoza, was touched for all 14 of SCHS's hits. Mendoza fanned three while walking four.
In game two, Mabton pitcher Josie Chase kept the Lady Knights in check, limiting the visiting team to just five hits. Unfortunately for Chase, the five walks she yielded and the four errors committed behind her allowed Sunnyside Christian to cruise to an 11-1 win.
Sunnyside Christian's second game pitcher was Carly DeGroot. She scattered four hits, recorded four strikeouts and walked only two.
The Lady Knights' biggest uprising came in the top of the second, when they pushed five runs across the plate. Mabton committed three of its four errors in that inning. The two hits, both singles, garnered by Sunnyside Christian that frame came off the bats of Van Wingerden and Hernandez.
Van Wingerden mirrored her first came offensive heroics, turning in another 3-for-4 performance in the nightcap. Rice accounted for the two runs Sunnyside Christian scored in the fifth inning by driving in both with a single.
(First game)
SCHS 1 0 7 2 2 3 -15 14 2
Mabton 0 3 0 0 2 0 -5 7 2
Hernandez and Ty. Van Wingerden. A. Mendoza and Orozco. Hits-(SCHS) Newhouse 3/4, 4 RBI, 2B; Ty. Van Wingerden 3/4, 3 RBI, 2B; den Hoed 3/5, HR, 2 RBI; Rice 2/4, HR, 3 RBI; Hernandez 2/4, 2B. (Mabton) P. Mendoza 2/3, 2B.
(Second game)
SCHS 2 5 0 2 2 -11 5 1
Mabton 0 0 0 0 1 -1 4 4
DeGroot and Ty. Van Wingerden. Chase and Orozco. Hits-(SCHS) Ty. Van Wingerden 3/4, 2 RBI.