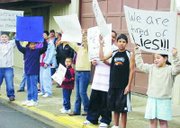 MABTON - Cheers roared from the people lining sidewalks along North Main Street in Mabton this morning, as honking cars drove by a healthy group of protesters who were standing up in support of Artz-Fox Elementary School Principal Fabian Castilleja.
The protesters were youngsters mostly between first and sixth grade, who wanted to support their principal. The pint-sized protesters yelled out chants supporting Castilleja, a principal they have gotten to know and love this past school year.
Parents of students in the school have been holding meetings and rallies, and signing petitions in support of the principal, who is nearing the end of his first, and according to some parents, his last year as principal of the school.
Parental concern first came to light about two months ago when their students came home from school after overhearing teachers talk about the school district firing Castilleja.
The issue has caused parents to step forward and attend school board meetings and write letters of support for the principal.
At a parents meeting last Wednesday night parents decided to pull their students out of school for two days this week, not to punish the principal, but rather to show support for him, according to Rachel Ruelas, one of the parents in support of Castilleja.
Monday morning more than 30 students from the elementary school and a handful from Mabton Jr. High came out to support Castilleja at a day-long protest.
Although more than 30 were at the rally, Ruelas said she spoke to a teacher this morning, who told her she only had six students in her classroom.
"We have others coming (to the protest) later in the day," said Ruelas.
According to Ruelas, the protest will continue Tuesday with additional parents and students coming out to line the streets of Mabton.
"The majority of our parents are farm workers and can't be here until later," said Tawni Zavala, one of the parents lining the streets of Mabton this morning.
She added that they expect more parents to participate in the protest later in the day as they get off work.
"We have several parents who will be getting off at noon and will be coming down," said Ruelas.
Ruelas said that the parents are fighting the way they have been treated by the school board.
"They don't listen to us," she said, explaining that they have voiced nothing but support for Castilleja.
"We came to the school board," she said. "They didn't listen."
Following the rules set out to them, the parents wrote letters, expecting them to be read into record.
"We want our voices to be heard," said Ruelas. "We're community members and we pay taxes."
Ruelas said the parents are prepared to take the issue further is Castilleja is not retained.
She said they will go after Superintendent Sandra Pasiero-Davis' job and recall the school board if necessary.
Ruelas said the parents support Castilleja because of the programs he has brought to the school and his fairness to the students.
One Artz-Fox sixth grader, Calixto Rivera, said Castilleja plays basketball with them.
"He goes outside and plays with us," he added.
Christian Gonzalez appreciated the recent Cinco de Mayo celebration Castilleja helped organize.
"We had the best Cinco de Mayo program in years," said Ruelas.
She also appreciates the programs, such as school dances, that Castilleja has started this year.
"They haven't had dances since I was in school," she added.
More importantly, Ruelas said, Castilleja has taught the children not to be afraid of the principal.
Ruelas added that the parents have seen Castilleja's resume and reference letters and the school district hired the best.
"We usually get first year teachers and principals," she said. "We're guinea pigs for everybody else."
She added that there is still a chance to turn this around.
Mabton Superintendent Sandra Pasiero-Davis was in a meeting all morning and was not available to speak to reporters. She also did not return phone calls made to her Friday and Monday mornings.