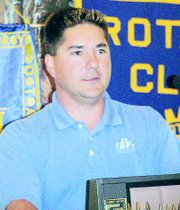 For a mere $500 deposit, a Sunnyside family can be on their way to owning their own house in Sunnyside's newest subdivision.
According Fred Nogales, a regional marketing manager for AHO Construction Inc., Harvest Village at the corner of Sunnyside-Mabton Highway and Allen Road is filling the needs of a growing number of Sunnyside residents seeking to become homeowners.
"We are offering affordable housing to young families and even area empty nesters," Nogales told the Sunnyside Noon Rotary Club members at the club's Monday meeting.
The Harvest Village project is designed to contain 265 houses, Nogales told the Rotary club members. "And families are responding," he added, noting the company, which began building new homes on the subdivision earlier this year, have sold 13 houses in the past month.
The cost of a typical starter house starts at $102,900, Nogales said.
He said AHO Construction Inc., which is based in Vancouver, has built nearly 4,000 new homes in subdivisions located in the Tri-Cities in the past eight years. The company also is currently building houses in Moxee,
"We are currently planning to build another 1,000 houses in the Tri-Cities. That area continues to have a strong housing market," he said.
But he noted Sunnyside is also proving to be a good housing market. "We are offering a variety of housing styles and new homeowners are finding that the prices are attractive," he said.
"Our houses offer young, professional families a great starter house, from which they can buy up," he said.
He invited the Rotary members to drop by the Harvest Village project office for tours of the model houses.