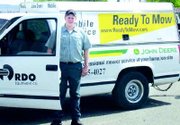 RDO Equipment Company is among the first lawn equipment dealerships in North America to offer at-home preventative maintenance services to owners of lawnmowers or lawn tractors.
The Ready to Mow program is being offered by RDO to customers in collaboration with John Deere. The Sunnyside RDO store is participating in the program. RDO customers in Yakima and Benton counties will be able to utilize the program.
Customers with any brand of lawnmower or lawn tractor will be able to take advantage of the service at their home, instead of having to take their mowers to a dealership or service shop.
"People are so busy these days that it's hard to make mower maintenance a priority, but neglecting a walk-behind or lawn tractor will shorten its life span, will decrease reliability and performance and will eventually lead to a range of mechanical problems," explained Thomas Hayes, service manager at the Sunnyside RDO store.
"Ready to Mow is a ready-made solution for owners in our service area who want to optimize their mower's performance by having our technicians service their machine at their own home and when it's convenient for them," he added.
Under the program, RDO technicians will travel to a person's home to service a lawnmower or tractor. The technician will arrive in a truck completely stocked with needed parts. The on-site service will eliminate the need for consumers to service the mower themselves or take the piece of equipment to a service shop.
Ready to Mow is the only coast-to-coast, at-home service program in North America that provides exclusive, expert lawn equipment servicing. There are currently approximately 280 dealers in North America offering the Ready to Mow program.
For more information on the Ready to Mow program, call 1-800-845-4027 or visit www.readytomow.com.