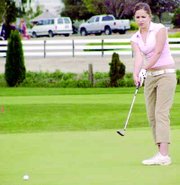 Led by sophomore Chante Bottineau, the Grandview High School girls golf team closed out the regular season yesterday with a second place finish at a CWAC South four-school match.
The Lady 'Hounds finished behind only Othello, the defending 2A State champs. Tuesday's regular season finale was staged at Sunnyside's Black Rock Creek Golf Course.
Bottineau fired a team low 109 yesterday on front and back scores of 52-57. The sophomore was headed for a round of 105 or 106, but ran into difficulty on the finishing 18th hole and absorbed a quadruple-bogey.
"The 109 Chante had yesterday, if she shoots that next week at District, it will be good enough to get her to State," said Grandview Coach Dave Ugetti.
One golfer who should have no trouble in qualifying for the State tourney is Othello's Kimberly Schutte. The Lady Husky linkster claimed medalist honors at Black Rock Creek Tuesday, carding an 8-over-par 80. Schutte is the defending 2A State champion.
Othello won the four-school match yesterday with a 447. Grandview was second with a 503 and East Valley placed third with a 506. Naches Valley had an incomplete team at the league competition.
Two Grandview girls shared second low honors for their team Tuesday afternoon. Both, Allyson Rohde and Katie Veloz finished with a 130. Veloz's round included a more than respectable 52 on the front side, although she ballooned to a 72 on the back nine.
Rounding out the Grandview team scoring was Kayla Carpenter's 134, on front and back scores of 69-65.
The Grandview girls team will be competing at the 2A District tourney in Leavenworth next Monday. The 11 low individual scorers at District will qualify to move on to the State tournament.